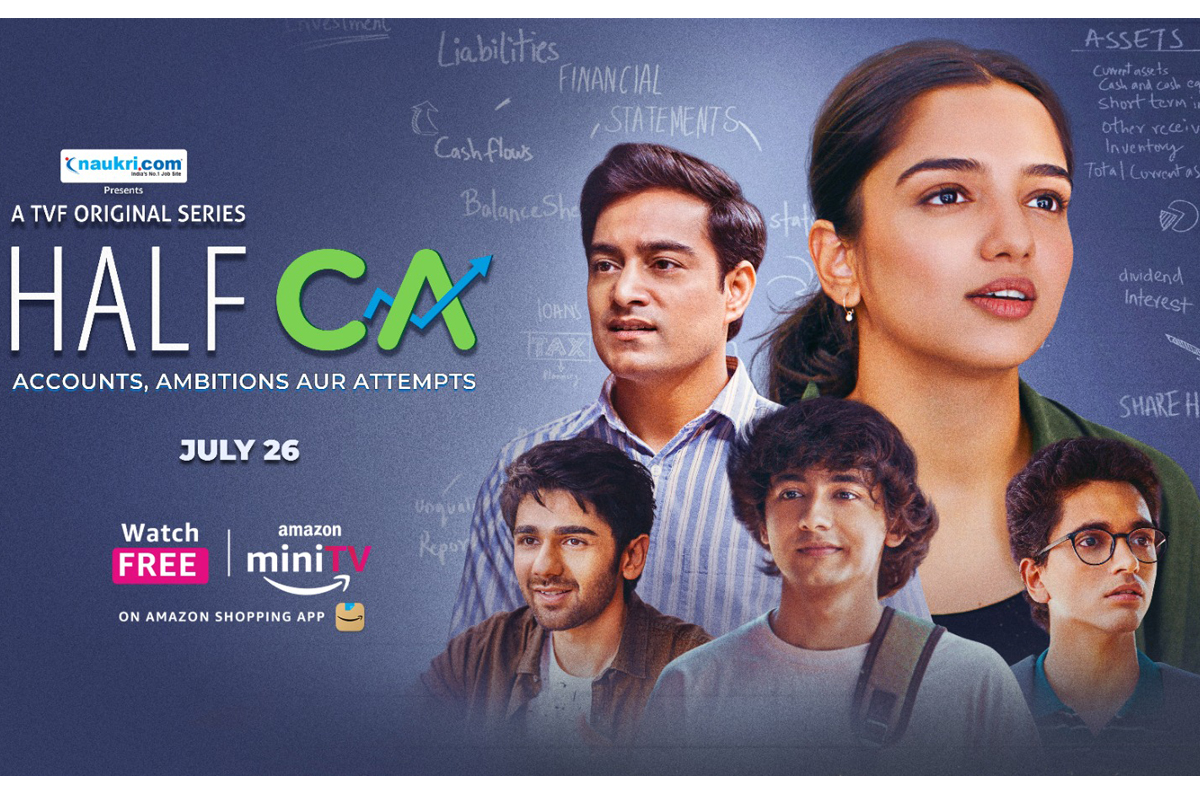 Official Poster
Amazon miniTV – Amazon's free video streaming service gears up to bring in the upcoming young adult drama 'Half CA' focusing on the intricacies and nuances of cracking one of the world's most professional exams i.e Chartered Accountancy. With the finance and student community at large already teeming with excitement following the announcement, the streaming service released a riveting trailer of the show. Created by TVF, the trailer gives viewers a glimpse into the hardships faced by students aspiring to become CA.
The series depicts the experiences of CA aspirants, from the outset to the finals, along with dealing with some existential dilemmas as they prepare for the exams. Half CA features Ahsaas Channa, Gyanendra Tripathi, Prit Kamani, Anmol Kajani, and Rohan Joshi in quintessential roles. With its relatable storyline and an intriguing narrative, the show slated to stream on Amazon miniTV on 26th July aims to strike a chord with students across streams appearing for competitive and professional exams.
The compelling trailer explores the lives of students preparing for competitive exams, highlighting the hardships of CA candidates. The story revolves around Archi who struggles with the fundamental question of "Why do CA?" and concludes with her ambitious cousin brother Niraj, who has failed CA finals attempts twice. The plot also focuses on Tejas, Vishal, and Parth,key characters who are on the path of achieving and fulfilling their aspirations. After passing the nerve-wracking exam and moving on to their next best effort, audiences are left to speculate if they will become CAs or remain caught in the Half CA loop.
Amogh Dusad, Head of Content, Amazon miniTV expressing his views on the show, said, "With Half CA our endeavour is to give audiences a well-rounded perspective of every student preparing for competitive exams.With a blend of personal friendships, professional challenges, and the narrative of thriving in the race of life , Half CA is bound to touch a chord with viewers across India.
Arunabh kumar, Founder of TVF who has developed this show with Harish Penditti, said, "I am thrilled to present 'Half CA' to the audience, a show that explores the lives and challenges of students from Commerce Streams who choose to qualify for India's most unique Exams, where you are competing only with yourself to become a Chartered Accountant. Society normally puts students from Science stream on a pedestal, but I personally believe that all professions have a lot of gut & glory in it, we just don't know about it. A CA's signature is considered most significant. With this show, we aim to entertain, inspire, and shed light on the journey of becoming a CA in a light-hearted yet meaningful way."
"Half CA has been an amazing journey for me and my character, Archi, as we dive into extensive preparations for competitive exams. From hustling her way in this unapologetically ambitious world to climbing the ladder of becoming a CA, the highly competitive environment strikes a competitive connection with students who are preparing for competitive exams. Moreover, the series gives a unique perspective into the lives of students as well as the joys and hardships they confront as they navigate adulthood while dealing with family and peer pressure. Can't wait for audiences to be a part of this journey on 21st July on Amazon miniTV." remarked actor Ahsaas Channa.
Echoing Ahsaas' viewpoint, Actor Prit Kamani further added, "Revolving around the lives of CA aspirants and their challenges, the story is a personal one, since my brother is a CA. Coming from a commerce background, I have seen what a nerve-wracking experience it is to prepare for one of the world's toughest professional exam. My character in the show is a homage to my college life, a friendly appearance that brings music and colour and an opportunity to be a part of the amazing universe of TVF and Amazon miniTV. I believe every student will find something that will strike the right chord. In a way we are all students, always. I can't wait for everyone to watch it."
Half CA will be available exclusively for streaming on Amazon miniTV on July 26th, within the Amazon Shopping app and on Fire TV, for free.