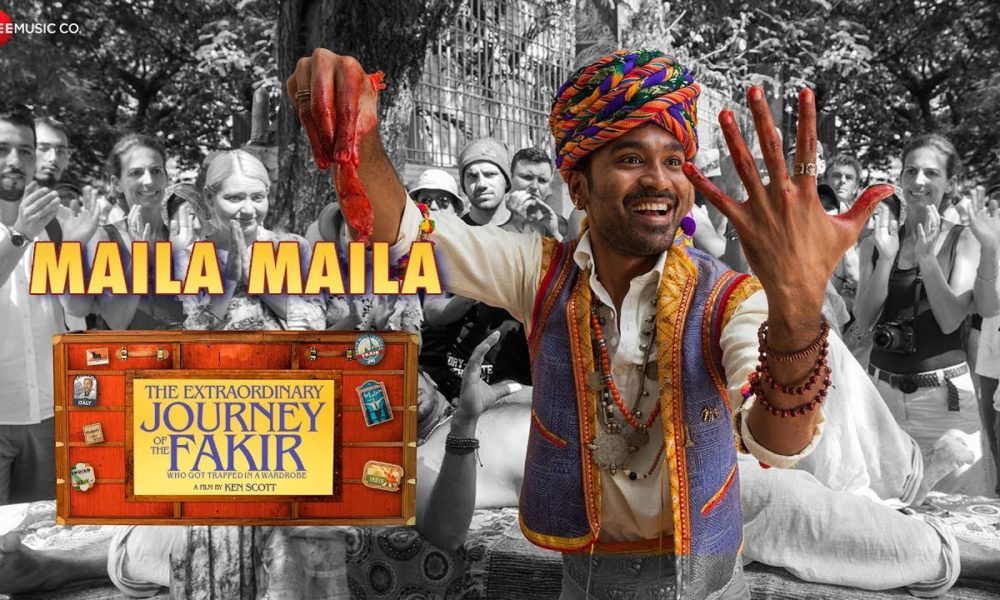 After garnering rave reviews in film festivals and registering good numbers at the box office in many countries, Dhanush's Hollywood debut, The Extraordinary Journey of the Fakir, is slated to release in India and worldwide on 21st of June.
The trailer of the film received a great response, and first two songs from the film, Angrezi Luv Shuv and Madaari are steadily climbing up the charts. The hook step of Madaari is also a rage, and has been trending with #CrushitlikeDhanush.
Ahead of the release, the makers of the film, released another song from the film, Maila Maila, a rap with a touch of folk music. Composed by Amit Trivedi, the song has vocals by Mame Khan and Rap by R Venkatraman. The song has been penned by Anvita Dutt and R Venkatraman. The song gives a glimpse into the adventurous journey of the protagonist Ajatashatru Lavash Patel, a street artist who cons tourists.
The Extraordinary Journey of The Fakir is based on a book by Romain Puértolas of the same name and revolves around an Indian street magician's journey to Paris. The film has been helmed by Ken Scott and produced by Saurabh Gupta, Gulzar Inder Singh Chahal, Aditi Anand, Samir Gupta, Luc Bossi, Jaime Mateus-Tique, Gregoire Lassalle, Genevieve Lemal and Co-Produced by Abhayanand Singh and Piiyush Singh from Golden ratio who are also presenting the film.