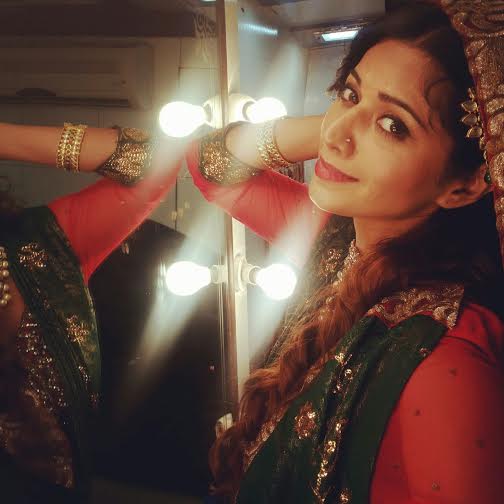 Mumbai: Beautiful and talented Ridhima Tiwari popularly known Rasili Bai in Life Ok television show Do Dil Ek Jaan was again seen tonight (9.00 pm) in Big Magic's hit show Akbar Birbal.
" I play a queen who comes along with her husband to visit court of Akbar on a state visit . Here something happens and one other queen is murdered. This case if unsolved could spoil relations between all our respective kingdom's. Luckily Birbal (Vishal Kotiyan) along with Virat (Rohit Khurana) catches the culprit. It was real fun as I got to act with veteran actors like Kiku Sharda( Akbar )and Delnaz Paul( Jodha). The whole Menakshi Sagar Production was so chilled out . Everything was happening at a cool pace, nobody was in a hurry as it happens in other units."
Ridhima who first was noticed in Sasural Genda Phool loves to do episodics ," as they give you an opportunity to do something different . In Birbal Aur Virat, I get to play a medieval Rajput queen replete with the heavy duty saris and jewelry." Prior to this she has done a number of episodics for Life OK crime based show Savdhan India," even there I got to play many everyday characters."
Although this show is light hearted Ridhima, could not get to laugh, "as my character was in a soup. And they trying to add suspense. But I have played a lot with comedy before. Bothy my Do Dil Ek Jaan and Sasural Genda Phool characters wrecked havoc with humour."
So when can we again see you in a full- fledged role on TV? " I am in talks with some producers and channels, let see. I am waiting for that one big role which will showcase Ridhiemaa in a never before seen avatar."
We wait for that day Ridhiemaa God bless.
By: SKS