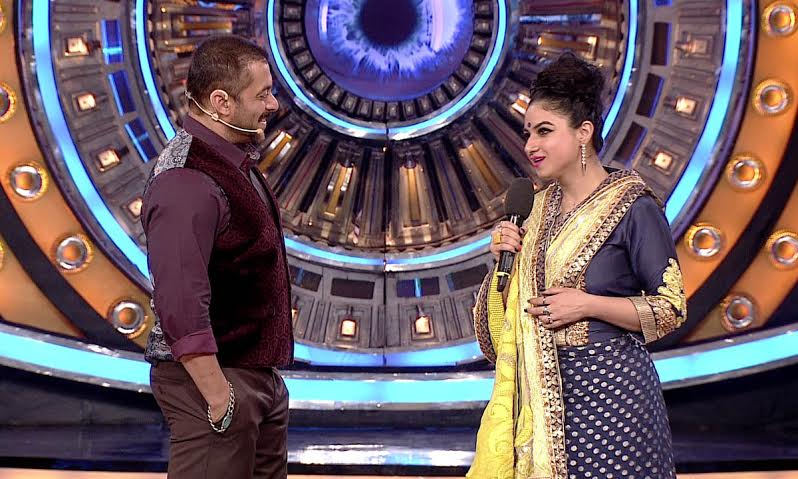 The Bigg Boss Wikipedia page listing the housemates of India's No. 1 reality show, displays Big Brother Australia and Bigg Boss Season 9 Wild Card contestant Priya Malik as a "Non-celebrity".
The Indian-Australian Priya is listed in the 'non-celebrity category' among various other categories under a chart list depicting 'Housemate Patterns'. The list segregates housemates of all past seasons into categories such as politically acclaimed persons, ex-reality show contestants, LGBT community people, pageant winners, persons who have been on the wrong side of the law, item girls, international stars, seasoned models, soap actors, singers, sportspersons, film stars, comedians and lastly non-celebrities.
Priya having done comedy on television, is said to have been listed in the 'comedian' category earlier. But her status is believed to have changed to 'non-celebrity' after she badmouthed Bollywood PR guru Dale Bhagwagar who handled the public relations for BB9 contestants Aman Verma, Vikas Bhalla and Mandana Karimi.
It can be noted here that during a spat on Bigg Boss, Indian-Iranian Mandana Karimi asked Priya Malik to "go back to Australia" with the latter alleging that Mandana was being a "racist". Mandana's publicist Dale is the same guy who handled the media for Shilpa Shetty when she faced onslaughts of racism from Jade Goody in Celebrity Big Brother in UK. The raging controversy turned Shilpa into an international icon against racism.
But Dale dismissed Priya's racism allegations on his PR client Mandana as "a minor fracas," stating that "the Indian audiences do not identify with racism the way the West does". Defending his client, he termed Priya's outrage against her as just "one of the pangs of being on a television reality show." After his comments in the outside world, the media did not give any more publicity to Priya's allegations.
Having been evicted from Bigg Boss before Mandana, Priya seemed to vent out her anger on the publicist, calling him an "ass" in an interview. As if in retaliation, the next day Dale gave an interview to an Australian radio station on a programme also featuring Priya Malik and completely ignored speaking about the Indian-Australian.