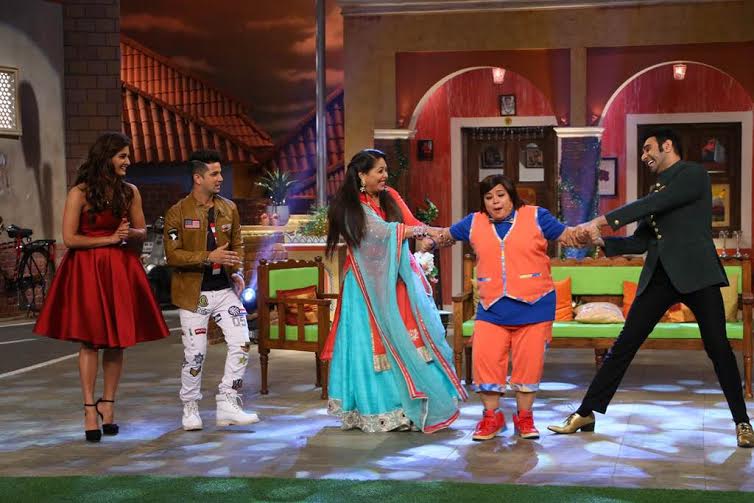 The hilarious talk show Comedy Night Live on Colors is climbing the ladder of success as it always keeps adding more fun and entertaining element to the show. This week was a blast on the floor, as this super entertaining episode brought in renowned bollywood dance masters and made them get out of their Dancing shoes. The Makers of Comedy Night Live invited Bollywood ace choreographer Sandip Soparrkar, Geeta Kapoor, Mudassar Khan and Mukti Mohan as their special guests.
This episode was sure shot a bumper pack with comedy and amazing dance moves. It was refreshing to see Bollywood most talented choreographers Geeta Kapoor and Sandip Soparrakar performing together and recreating the magic of the 60's era following it up with the 90s style of dancing.
Host of the show Krushna Abhishek dressed as disco dancer Mithun Chakraborty shook a leg and teased Geeta Kapoor about her fondness for Mithun da and on the hand Bharati in her Tinku avatar performed a wedding dance with Maestro Sandip Soparrkar and made him go on his knees and propose to her. Muddasar Khan and Mukti Mohan too matched steps with each other making the episode a perfect combination of dance and comedy.
On a social networking site talented Geeta Kapoor thanked Sandip Soparrkar for always being humble, kind and loving towards her. And to that the dashing choreographer replied that it was always his dream to dance with her and finally it came true after so many years. It was beautiful to see artist from the same field appreciate each other rather pulling one another down.
Comedy Nights Live on Colors Television is hosted by Krushna Abhishek and Bharati. Rashami Desai along with Upasana Singh, Sudesh Lehri and Siddharth Sagar are also displayed their comic side in the series.