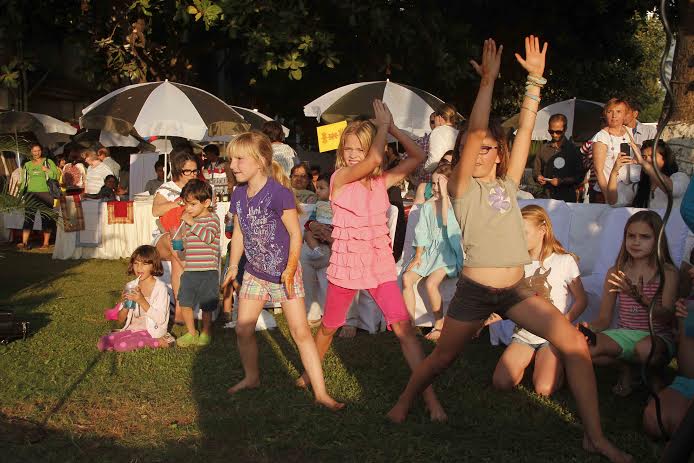 Mumbai: It was Shopping by the Sea & Fun for the kids the Breach Candy Swimming Bath Trust ( BCSBT) Charity Carnival , on Saturday, 15th February, 2014; from 3- 7 pm on the Shack 66 lawns. 25 reputed NGOs of Mumbai sold their products and promoted/profiled their activities to gain awareness for the wonderful work that they do. There were some really exciting activities for kids like a bouncing castle, ball pool, toon mascots etc., and monkey tailing by Magic Bus, Mehndi by Shraddand Ashram, foot massages by Trinayani, a yoga demo by We Can, a childrens' choir by Muktangan and sale of interesting yummies by some of the other NGOs. The pics of the event attached herewith, speak for themselves.
Chairman of the Trust Mr. Dipesh Mehta said, "The positive energy and spirit of the Charity Carnival was awe inspiring & motivating, to say the least. It was so heartening to see so many members, NGOs and volunteers participating so enthusiastically and members' children having so much fun. The exuberance for the kids from We Can & Muktangan introduced a different dimension to the event and added so much colour and vibrancy to the evening".
NGO participation in the Charity Carnival was subject to availability and approval of the BCSBT Charity Committee and entry was limited to members and their guests only. The BCSBT did its best to ensure a maximum return to the charities who participate on the day and promoted this noble cause wholeheartedly. The management went out of its way to ensure the comfort of all NGO volunteers and participants and provided them with snack boxes and refreshments. Ultimately, the patronage, staunch support and generosity of its members and their guests were what made this Carnival a success, in spite of the unseasonal showers on Saturday. In fact the committee had decided to waiver off the guest fee for guests patronizing this Carnival, to encourage members to bring in guests and thus generate more funds for the NGO. Others present at the event were Mallika Sanghvi, Kamal Sidhu, Sandali Solaskar(Keerti Reddy), Meher Moos, Dipesh Mehta, Vikram Malik, Marion Panjwani, Natasha Kewalramani, and Jeannette Anand. Overall everybody was seen enjoying the evening.