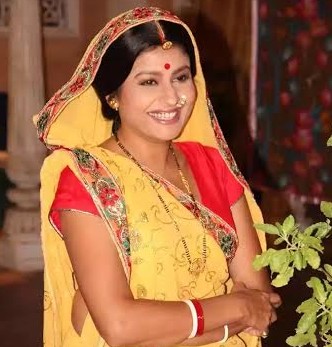 Mumbai: Jaya Bhattacharya who is currently seen as 'Sudha Bua' in 'Gangaa' and another pivotal role in 'Thapki…Pyaar Ki'. Jaya is playing 'Vasundhara', mother of the male protagonist in the show. Vasundhara has been seen challenging the TV 'Saans' (mother in law).
As seen Bhabho in Diya Aur Baati Hum, Kokila in Saath Nibhana Saathiya, Nirmala Devi aka aamaji in sasural simar ka. Now time for Vasundhara to build in Thapki…Pyaar Ki.
When we asked about the same. Jaya Bhattacharya comments, " I am not competing with any of the actors who are in the various shows mentioned. They have made their mark in their respective shows and they deserved it too. Thapki is different show and it will make its own place in the hearts of the viewers and so will we the actors. I have already played a Saas earlier and the most famous character was as Payal in Kyunki as the character ranged from young to old in the long period of the show. I am just glad that I am doing two shows Ganga and thapki and in both of them I have very different characters to portray. The viewers are liking both thus I am blessed"
Jaya who is very soft hearted in real life. She is found worried. When we asked the reason behind his unhappy face. Actress shares, " Baarood is my grandson as he is the son of my first pets begum and devil and the last of their linage in my family. His sister jaaneman was also a part of my family. Baarood gets fits this we did an MRI of the brain yesterday. There is a tumor is what the doctor says. My heart is sinking at the thought of having to lose and that is inevitable because whoever is born ultimate goes away, yet…Baarood celebrated his 11th birthday on the 6th of July. He is my sweetheart, the baby who refuses to grow up. He lives raw vegetables like pumpkin carrots tomatoes potatoes gourd radish etc. fruits like papaya and watermelon are his favorite. He has had a good life filled with love and pampering so I am happy that we have taken good care of him as we had promised ourselves and Baarood has given us immense happiness with his existance in our lives."
Keep reading for more updates!