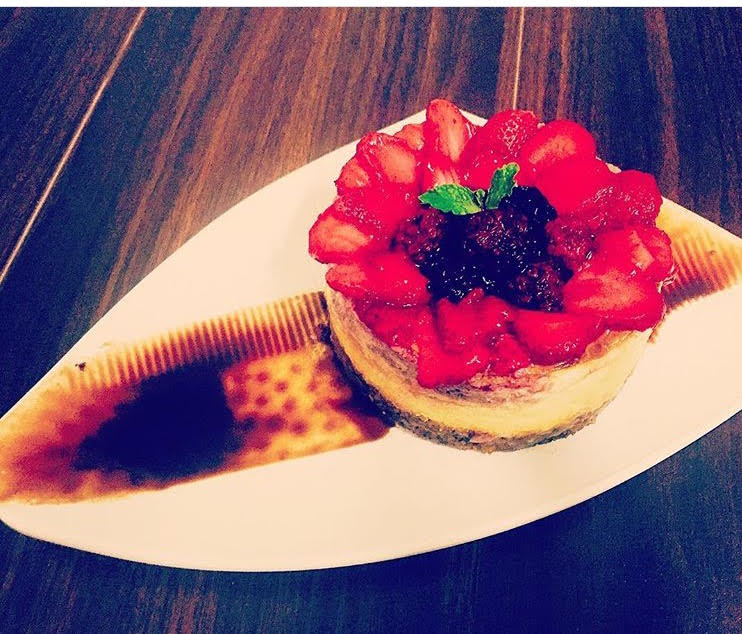 Ingredients for Raspberry Cheese Cake
150g digestive biscuit
-150g dry fruit muesli
-100g unsalted butter
-150g frozen raspberries, defrosted
-80g white chocolate
-250g cream cheese, softened
-125g mascarpone
-150g sour cream
-1/2 cup caster sugar
-1 and 1/2 eggs
– strawberries and blackberries, to decorate
– icing sugar, to dust
Preparation Method
Preheat oven to 160C
Line the base and side of a round small springform pan with baking paper.
Process biscuit and muesli in a food processor until the mixture resembles fine breadcrumbs.
Add butter and process until well combined.
Place in the prepared pan and use back of a spoon to spread and press the biscuit and muesli mixture over the base and side.
Place in the fridge for 30 minutes to chill.
Meanwhile, process the frozen raspberries in a food processor until smooth. Strain through a fine sieve into a bowl, using the back of a spoon to press as much pulp through as possible.
Place the chocolate in a heatproof bowl over a saucepan half-filled with simmering water. Stir with a metal spoon until melted and smooth
Process the cream cheese and sugar in a food processor until smooth. Add the eggs.
Add the mascarpone and sour cream and process until combined.
Add the melted chocolate and process until just combined.
Divide cream cheese mixture into two medium bowls.
Add the raspberry pulp to 1 portion and stir to combine
Pour half the cream cheese mixture into the prepared base.
Pour the raspberry mixture over the top. Use a skewer to gently swirl to create a marbled pattern
Place on an oven tray. Bake for 1 hour or until just set. Turn off oven and leave, with door slightly open, for 1 hours to cool.
Transfer to fridge to cool.
Transfer the cheesecake to a serving plate. Top with berries,strawberries and dust with icing sugar.
ENJOY 🙂
By: Chef Akanksha