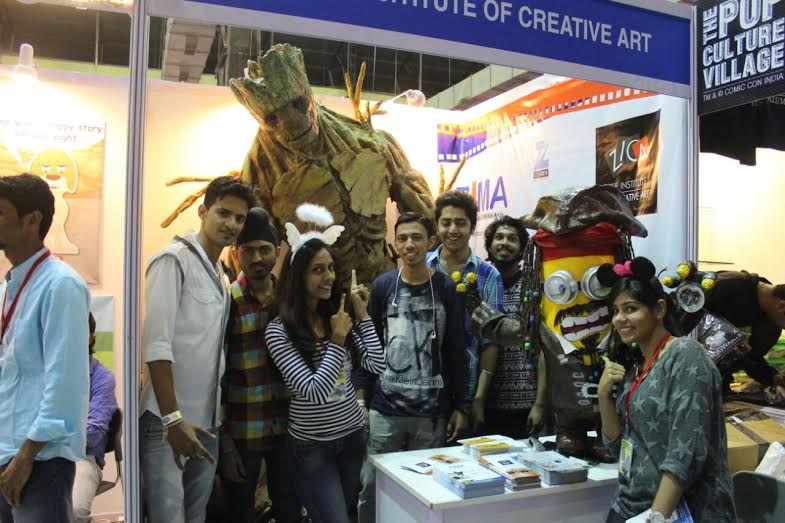 Mumbai: In an amazing display of ingenious creativity, the students of the Zee Institute of Creative Art (ZICA) adorn the ZICA stall at the Mumbai Film & Comics Convention, 2014 with an eight feet, larger-than-life character called Groot from Marvel's 'Guardians of the Galaxy' movie along with a host of 'Minions' in their various alter egos, all made of waste and recycled materials.
Cute Minion characters from the movie, 'Despicable Me', go a step ahead by dressing up as Super Man and as Jack Sparrow from the movie series, Pirates of the Caribbean and as Marvel Comic Universe's Wolverine in the Comic Con event ongoing in Mumbai from 19th Dec to 21st Dec 2014.
An 11 member team, headed by ZICA student Heena Bhanushali along with Kaustubh Datar , Drishti Gupta, Shubranil Roy, Shanel Mores, Aishwarya Pillai, Tejashree Mhatre, Revati Belenor, Nikhil Tikoo, Piyush Bhardwaj, Anirudh Sharma embarked on Mission 'Minion', where they created 3 Avatars of the Minion Universe using waste materials like empty 20 litre water jars, waste pieces of wood, jute bags, rope, thread, old wires, old newspapers, old clothes, old belts, plastic balls, plastic containers from take away restaurants, thermocol, clay, torn soft toys, torn towels, bales of cotton, plastic bags, chart paper and coffee-cup lids.
Similarly, the Groot Team consisted of ZICA students; Aniket Pawar, Mandar Mhaskar, Nitin Bhanushali, Tashi Choeden, Chahak Dalal, Viraj Bidaye, Siddhesh Bahadkar, Sachin Berde, all under the able guidance from ZICA student Prashant Sahu as their trusted Team Leader. The towering Groot was once again made up of old newspapers, broken drainage pipes of old washing machines, wooden planks, tufts of hay, interlocking mats, toilet and tissue papers, torn Card board pieces and old cartons.
An artistic revolution of sorts indeed from the brilliant minds of the students of ZICA, making a statement by creating amazing replicas of popular cartoon and movie characters, which have grossed millions of dollars as profits worldwide, using waste materials to create their own interpretation of the real thing.
About Zee Institute of Creative Art (ZICA): 
Zee Institute of Creative Art (ZICA) is the nation's first full-fledged Classical and Digital Animation Training Academy that trains youth in classical 2D and modern 3D animation. With its state-of-the-art infrastructure, ZICA gives practical training in 2D Animation, 3D Animation, Visual Effects & Gaming, covering the stages of visualization, Pre-production, production and post-production
Today ZICA, with over 30 centres in more than 15 major cities including Mumbai, Delhi, Bangalore, Hyderabad, Kolkata, Pune, Lucknow, Chandigarh, Bhubneshwar, Ahmedabad etc. emerges as young India's chosen partner to turn passion into profession.