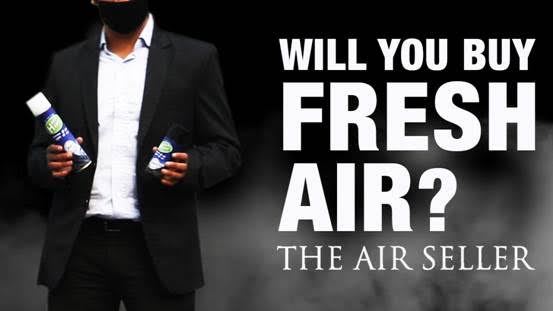 New Delhi: It all started when a four year old rubbished the idea of firing crackers this Diwali and educated five adults in his family to #ChangeTheAir in his locality. This astonishing instance motivated a group of enthusiasts to give birth to the idea of "HAWA BADLO"
Interestingly this lot was discovered, when they released their first video where MTV Roadies X1 Ajay Sehrawat was made to sell package fresh air on Delhi streets as a social awakening experiment to capture common man's reaction got trended over internet this weekend and clocked 4 Lakh views over Facebook and YouTube in just 2 days. Video got so popular that it was all over Delhites Facebook wall and got its share of voice by huge shares amongst social audience and was also covered by some of the prominent online social media journals and blogs.
2016 looks like the rise of a new India, which has finally awaken against the bad air and determined to change the air they live in. Hawa Badlo team has initiated the movement from the capital city of Delhi to set the national example for every metro city in the country to follow.
Hawa Badlo movement in the initial year intents to connect with the citizens of NCR, who are currently at massive health risks due to constant rise of PM2.5 and other lethal pollutants in the air mix. The campaign is kick starting with the launch of social experiment "The Air Seller" capturing various emotions of the citizens, when asked to buy packaged can of fresh air to enjoy pollution free breathing air.
Brands, NGOs and individuals working on protecting the environment, have already shown huge interest to connect with the movement and work from the common cause, even media has shown considerable interest in contributing their best for wide reach of the social message.
By reaching out to the masses, Hawa Badlo is most likely to transform the state's current air quality index and spread the awakening in rest of the country as observed earlier in developing nations like Mexico and China.
About the Movement
Hawa Badlo is an independent people's movement spearheaded by a Gurgaon based startup Social Cloud Ventures with intent to change the air quality level and make country more breathable. Initiative is supported by GAIL (India) Limited to help the group, in building a sustainable environment for the young India. GAIL, the youngest Maharatna saw huge value in the radical ideas of Hawa Badlo team and decided to support and empower the idea to become a national movement.
The movement aims at motivating people to commit towards air-friendly habits like switching to CNG/electric vehicles, carpooling, and use of public transport. In the initial year, team is focusing to work primarily in areas of Delhi NCR and bring a change. For more updates about the movement, follow HAWA BADLO on Facebook.com/hawabadlo Or Twitter handle @hawabadlo