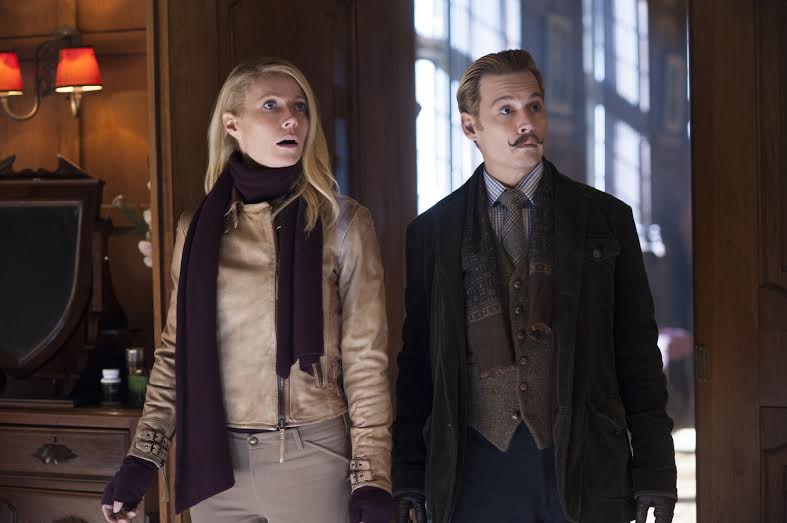 London: "I ruined 15 takes!" says Gwyneth Paltrow talking about the ordeal of shooting with the handlebar moustache of Johnny Depp in the upcoming action-comedy Mortdecai, which is distributed by Kinesis Films in India
Johnny Depp's handlebar moustache in his next, the upcoming spy thriller, Mortdecai distributed by Kinesis Films Pvt. Ltd, gave a lot of grief to his co-star, Gwyneth Paltrow on screen and off-screen. Paltrow plays Depp's leggy wife in the action-comedy releasing in India on January 23rd.
Charlie's biggest weakness is his beloved and luscious blonde wife, Johanna, played by Paltrow. Johanna and Charlie have been together since college. She is quite posh and certainly more clever than Charlie.
Coming between the couple is Charlie's latest attachment—his new moustache. "He's grown this moustache while she's been away. She is appalled by it. She tries to get past the moustache, but she just can't. She finds it physically revolting and it almost makes her throw up." Paltrow explains.
She adds, "Filming those scenes was categorically the hardest thing I've ever had to do—to get through it without breaking (the moustache) was so hard! I think I ruined 15 takes!"
"I believe the moustache is a metaphor for what's going on in the marriage. Something on the surface seems off, but really there's much more underneath. Their relationship is charming though. They're cut from the same cloth. They have a lot of fun and there's a very strong chemistry that has kept them together all these years," concludes Paltrow.
Watch Trailer: