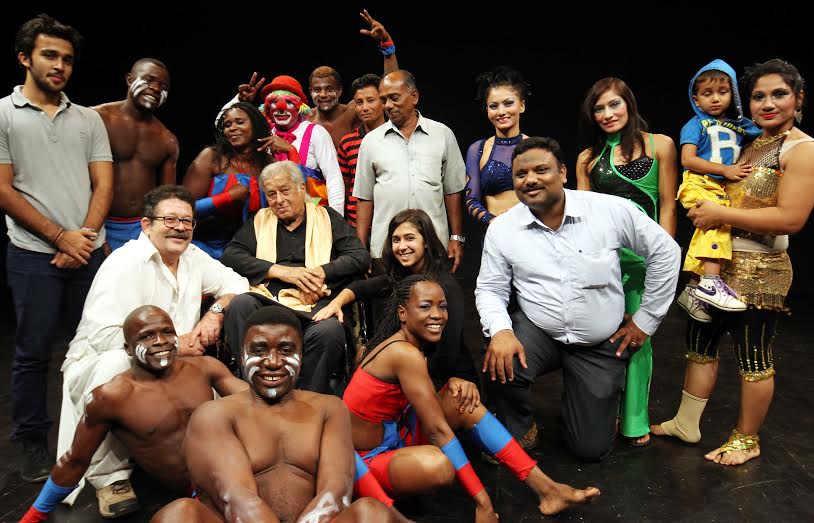 THIS CHILDREN'S DAY WITNESS THE ASTONISHING ACTS OF HUMAN WONDER SHOWCASED BY INTERNATIONAL ARTISTS AT RAMBO CIRCUS !
Noted Actor Shashi Kapoor made a rare appearance to see the special show of Rambo Circus and its troupe of international artists in the indoor theatre of Prithivi. This show was part of the Children's week celebrations by Rambo Circus.
Davron Majidov, who is participating in the International Circus Festival from Russia, clearly was awed by the Kapoors and went up to Shashi Kapoor to take his blessings. " I have been a fan of Mr Raj Kapoor who is very respected back in Russia, so it's a great honour for me to perform today in front of the Late Raj Kapoor's family. I am humbled " said the 19 year old boy.
The entire troupe of Rambo Circus artists crowded around Shashi Kapoor delighted to see him doing well. Shashi Kapoor's son Kunal and grandson Zahan were also present with Sujit Dilip, owner of Rambo Circus. Each one of the Rambo Circus family went up to Shashi Kapoor for his blessings and being photographed with him. Shashi Kapoorji was happy to indulge and sat through the entire performance.
The show at Prithivi Theatre was a super hit and ran to packed houses.
This winter, the larger than life " International Circus Festival 2014-15 " is in town with artists from around the world – South America, Russia, Africa, Mauritius, Nepal and other parts of India. Acts of Human skills and wonder include the most spectacular & dangerous act The Wheel of Death and others like Rolla-Bolla, Body Contortion, Arial, Flying Trapezee, Skywalk, Africano Fire eater and many more.
The fully air conditioned tent with hi-tech light and sound show is being showcased at the Bandra Reclamation Ground with show timings being 4 pm & 7pm on weekdays and an additional show at 1pm on weekends.
There are special offers for the Children's Day celebrations. You can log onto www.bookmyshow.com or call 9930237807.
There are special offers for group bookings and schools & colleges .
The act is on till December 4, 2014.
Witness the fun filled acts at the ongoing Rambo International Circus Festival with your family.