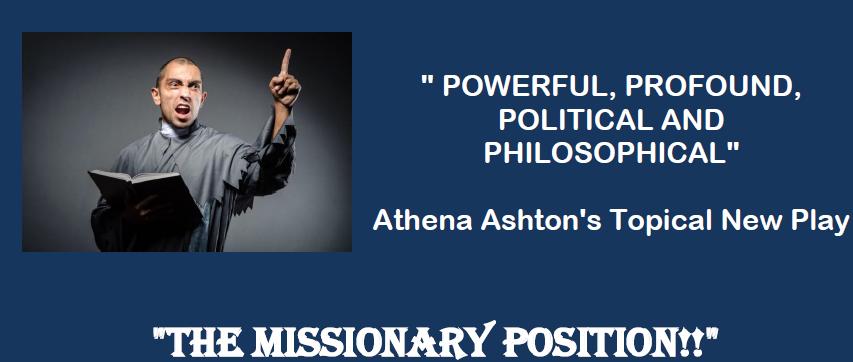 Mumbai: "POWERFUL, PROFOUND, POLITICAL AND PHILOSOPHICAL", Production House Theatre NW1 presents Athena Ashton's Topical New Play "THE MISSIONARY POSITION!!" The play will be screened in theatres in Indian cities from April 2015 onwards with the first screening in Mumbai on 5th April 2015.
The play is directed by the young British Director Samantha Rowe and has a great cast including: Christopher Pemberton as Father Joseph; beautiful Caroline Egerton as the ravaged nun Sister Abigail; talented Indian actress Shyamala Shankaran as murdered nun Abhaya; accompanied by a large, brilliant British, Indian and African cast. Sets designed by Rosemary Shackleton include a tribal area in North East Area and Andhra Pradesh where villages penetrated by missionaries are brilliantly and authentically created.
Athena Ashton the writer who has studied Sanskrit and Yoga under a great Indian Scholar was appalled by the destruction of Indian heritage by missionary activity which not only negated all that was beautiful and rich about Indian Philosophy and Mythology buy usurped part of it as their own but " belonging to Christianity".
She also saw how christian missionary activity was primarily directed at Hindus in India but used propaganda against Muslims and Hindus to divide them. In Africa it was used for political power and natural resource exploitation through conversion. The play has been highly praised for an original and illuminating exposure from a European point of view into the activities of missionaries in India, China and other Asian countries as part of Gospel 2000 following mass conversions of indigenous peoples in Africa and Latin America.
RAVE INTERNATIONAL REVIEWS:
"A powerful expose of the cancer of Christian missionaries and their conversion and sexual predatory activities that has decimated most African and Latin American cultures and is now threatening the Chinese state after contaminating India." – Theatre Review
"The young English playwright Athena Ashton who has investigated the phenomenon of fake Christian conversions across three continents has written a deep and profound play with huge political and cultural implications for several indigenous cultures that are now vanishing under the onslaught of a religion now almost defunct in Europe"- Buddhist World
"A hilarious yet shocking, powerful and tragic exploration of the " Missionary's Position in the third world and of the financial muscle of a highly questionable and historically dubious faith still at the root of post -colonial exploitation for natural resources and cultural destruction of ancient civilizations " -London Stage.