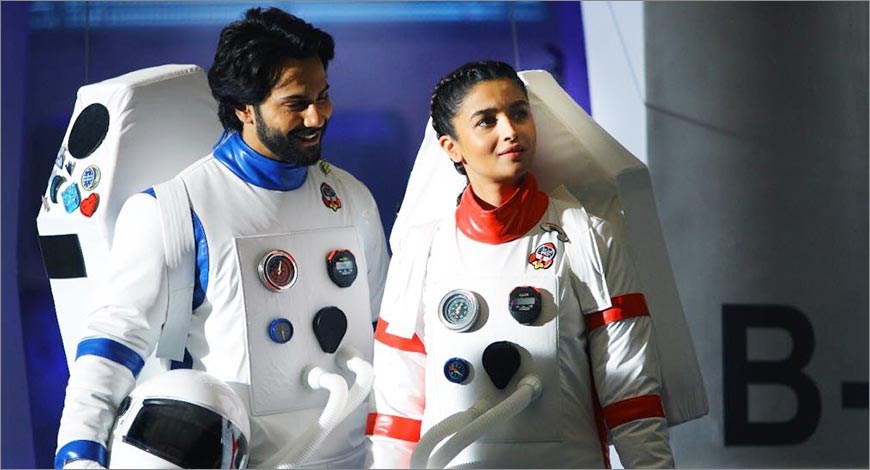 The second leg of the most talked about Adar Poonawalla Clean City Initiative's (APCCI) campaign created by Dharma 2.0 launched on Wednesday. The second advert by the young and zippy venture urges people to take the basic steps to keep their surroundings and city clean. The two youth icons, Alia and Varun are back together for the second captivating ad to drive home APCCI's message of keeping cities clean.
This time around, the ad features Alia and Varun as astronauts, with one of them being determined to send out the message of cleanliness loud and clear. The two land on the moon and descend from the spaceship while having a casual conversation. At this time, Varun unwraps a chocolate bar and mindlessly throws the wrapper that floats across Alia's face, owing to zero gravity. Alia gets irked by this and tells Varun to at least not litter on the moon, before leaving him behind. The TVC ends with Alia requesting the audience to keep the city clean. Just as the first advert in the campaign – 'Romeo and Juliet,' the second TVC also has a humorous element to it.
Alia Bhatt posted on twitter handle about the new ad on Wdnesday, she twitted " Our planet.. Our home! Our duty to keep it clean. @Varun_dvn @adarpoonawalla @CleanCityPune @punitdmalhotra @DharmaTwoPointO http://bit.ly/VariaSpaceAd #DuniyaHogaClean"
Varun Dhawan also posted about the ad on twitter by mentioning,
Stop littering and save our world. Had to go the moon to make this point#DuniyaHogaClean @aliaa08 @CleanCityPune. https://t.co/IkBBTq6wcH

— VarunDhawan (@Varun_dvn) November 15, 2017
Dharma production who produced the ad also posted on twitter mentioning, " Badlega scene jab duniya hogi clean! Watch what happens when @aliaa08 @Varun_dvn get to the moon @CleanCityPune @punitdmalhotra @adarpoonawalla #DuniyaHogiClean"
Commenting on the launch of the second ad, Punit Malhotra, Head Dharma 2.0 said : "The response that the first ad garnered has only been positive and we know it has touched the right chords with the audience. We hope to receive a similar response for our second advert for Adar Poonawalla Clean City Initiative's campaign. This ad again brings Alia and Varun together, who are in their element and humorously reinforce the message of keeping our city and our surroundings clean."
Adar Poonawalla Clean City Initiative is a successful city-wide awareness campaign that works towards making cities in India more liveble. This environmentally sustainable initiative, stresses on scientific and effective management of waste and urges the citizens to take the necessary actions to keep their city clean and green.
PS – This independent initiative is initiated by Adar Poonawala's Clean City Initative and readers should not link to Prime Minister's Narendra Modi's 'Swachh Bharat Abhiyan' initiative.