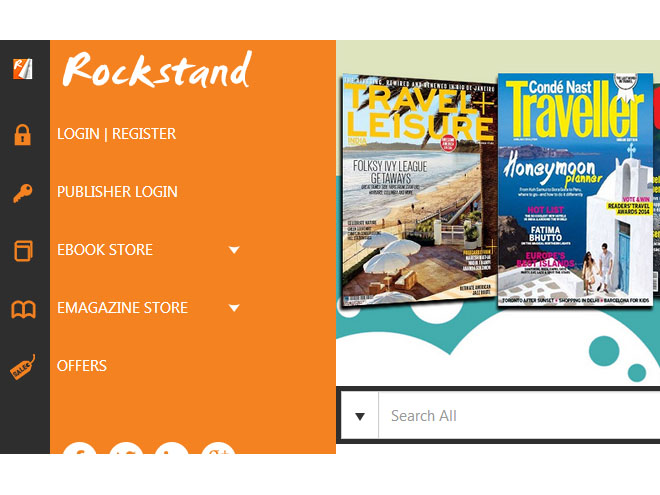 Mumbai: Rockstand, the leading E-Books and E-Magazines mobile application available across Android, IOS & Windows platforms today announced the addition of leading auto and business magazines to its portfolio. It has added The Week, Auto India, Business India among other e-magazines to its store. The addition is in line with the ongoing initiative of Rockstand to build the largest bank of e-reading material to its customers. Rockstand has already tied with over 600 publishers and has added 700 e-magazines to its kitty in a short span of six months, making it the second largest e-magazine application in the country.
Rockstand aims to add 5000 e-magazines by October 2014 which will ensure its leadership in this space.
Commenting on the addition Mr Praveen Rajpal, CEO, Rockstand said, "Keeping our esteemed readers in mind, we aim to add 5000 e-magazines by October 2014 so that our users can access the largest collection of magazines on Rockstand. We have already tripled the size of our team and developed international assets to realize our goals. Our endeavour at Rockstand is to constantly enhance our readers experience and this will be a step ahead to further delight our users with the largest range of e-magazines, available literally at their fingertips."
One of the grey areas is storage space on devices which is usually overwhelmed with applications and other data. An innovative initiative from Rockstand is provision of cloud equivalent space to readers to store their books. This is the first time such a facility is made available to the readers to enjoy hassle free reading without worrying about the space constraint on their hand sets.
Speaking on this initiative, Mr Rajpal added, "Our first major breakthrough was developing a state of the art in-house content conversion team to check piracy and offer prompt delivery. After several tweaks and additions to app functions, we have created 1 Terabyte of cloud equivalent space for our users, ie. readers can access any Rockstand content ever purchased by visiting their purchase history, this lets users free space from their device. The experience is further enhanced as it also has "book mark feature". The reader can access the book at the very page where he left reading the last time."
Mr Rishi Mohan Jha, Head, Rockstand said, "We are very aggressively working on increasing our e-magazine base and soon we will have all the e-magazines available across the country on our application. Our academic content and regional magazines content cumulatively make almost 50% of our business. With emphasis on device capacity Rockstand developed PDF compression tools for e-magazines and hosts eBooks in latest ePub format to enhance user experience. "With data being a major asset our focus is to engage users by eating less into their data packs. Our compression technology saves up to 80% of data usage and there is no stress to the users about storage on the device."
Rockstand currently has a wide category of e-magazines ranging from Education, Competitive exams, Fashion, Lifestyle, Travel & Leisure, Business & Current Affairs, Sports, Indian & Foreign Languages Magazines, Children & Puzzle, , Entertainment, Home & Living to name a few.
About Rockstand
Rockstand, is a knowledge sharing initiative that offers a free of cost EBooks/E-Magazines reading mobile application on Android, IOS & Windows platforms. Intuitive features such as Day/Night mode, Auto-Bookmarking, Reading in offline mode, Annotations, Online/Offline Dictionary, DRM, PDF, Zoom among many other make a user's experience on Rockstand impressionable. After having touched over 4, 50,000 devices this knowledge sharing platform is among the leading smart phone APPs in India. With its intuitive features and user friendly interface this innovative application is set to revolutionize the way expert driven content is consumed on the virtual space.
Rockstand has already tied up with leading authors and publishers across the globe taking the content repertoire to over 600 publishers with over 1,25,000 titles. This app has a vast content repository spread across genres such as Romance, Knowledge, Fiction, Non-Fiction, Health, Kids, Travel, Cooking, Academic including content in Regional and Foreign languages, Rockstand also has a bouquet of readers favorite magazines such as GQ, Femina, Vogue, Digit, PC World, Indian Today, Outlook, CRN, Business World to name a few.
Rockstand also lets user store their books on cloud equivalent space to read in offline mode, this feature has been specially added keeping in mind the availability of low space in Indian manufactured smartphones. Apart from the conventional payments modes, Rockstand is a unique app with an OPERATOR BILLING FACILITY that empowers a user to pay for an E-book/E-magazine with his/her mobile talk time. Rockstand's dynamic repository has e-books from world renowned authors including content in regional languages and is constantly updated 'as-per-availability'