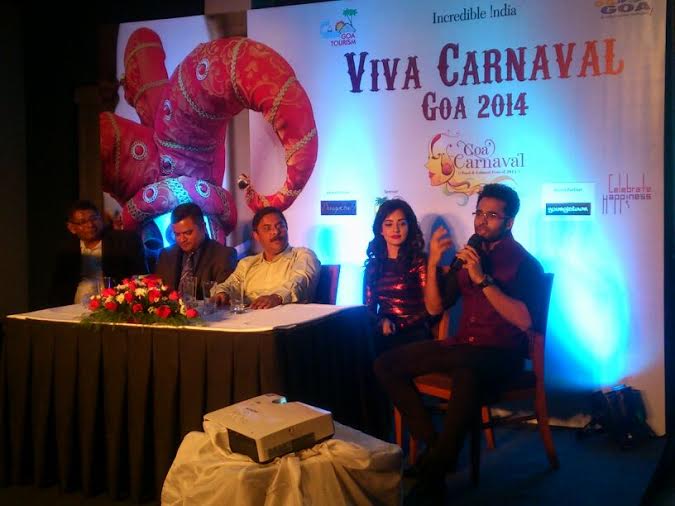 Mumbai: The Minister for Tourism, Government of Goa, Shri Dilip Parulekar, today announced the plans that the state has drawn up to celebrate Carnaval 2014. The festivities will begin on February 28 with the inauguration of the food and culture festival and wind up on March 4. The Minister also added that this year's event will be one of the most colourful and vibrant editions of the Carnaval. The event is Goa's tribute to its diverse population and heritage; it aims to spread a message of peace, unity and harmony.
While addressing a gathering of media today he said, "The Goa Carnaval is the highlight of our annual calendar and we want to ensure that this will be an unforgettable experience for locals as well as visitors to the state. Our vision is to see that the Carnaval here becomes as popular as the legendary Brazilian Carnival." The Minister also added that Goa Tourism is keen on promoting the state as a place for celebrations. "Goa is a place that induces a contagious celebratory spirit, right from weddings to festivals everything here is celebrated with pomp and fervor. This is why we are also promoting and packaging festivals and events like the Carnaval 2014 followed by Cashew & Coconut Festival, Goa International Travel Mart. Others like Shigmo, Sao Jao, Bonderam and Tirpurari Purnima have some quaint traditions associated with that are a testimony to Goa's rich history. It is also our effort to preserve the heritage and cultural lineage of our state."
Shri Parulekar then went on to enthusiastically outline the plans for this year's event and mentioned that the state is geared up to expect and accommodate over 2.5lakh tourists during this time. The Carnaval 2014 commences with a Food and Culture festival on February 28, which will highlight the cuisine and rich legacy of Goa. This festival will also feature participation from other states. To add that element of glamour and excitement to the proceedings, a Brazilian troupe will be especially flown in for an electrifying Samba performance. Prominent musicians including the Raghu Dixit Project, Strings and some famous home-grown bands will perform at the festival too. It is expected that a fashion show and a fire display will also be included in the celebrations.
The event also saw actors Jackky Bhagnani and Neha Sharma, who star in the upcoming movie Youngistaan, speaking to the media about their experiences in Goa and association with the Carnaval. Youngistaan is the official movie partner for Goa Carnaval 2014.
What makes the event different this year is that it will feature street performances by musicians at various vantage points across the state, a King Momo contest and increased prize money.
Goa Tourism is also taking measures to ensure that high standards of safety, hygenie and cleanliness are maintained in the state. Shri Nikhil Desai, MD of GTDC, and Director of Tourism, Government of Goa, said, "We have taken measures to ensure 100 per cent safety for everyone and have increased the deployment of police force at tourist spots. We are also in the process of increasing room inventory for tourists."