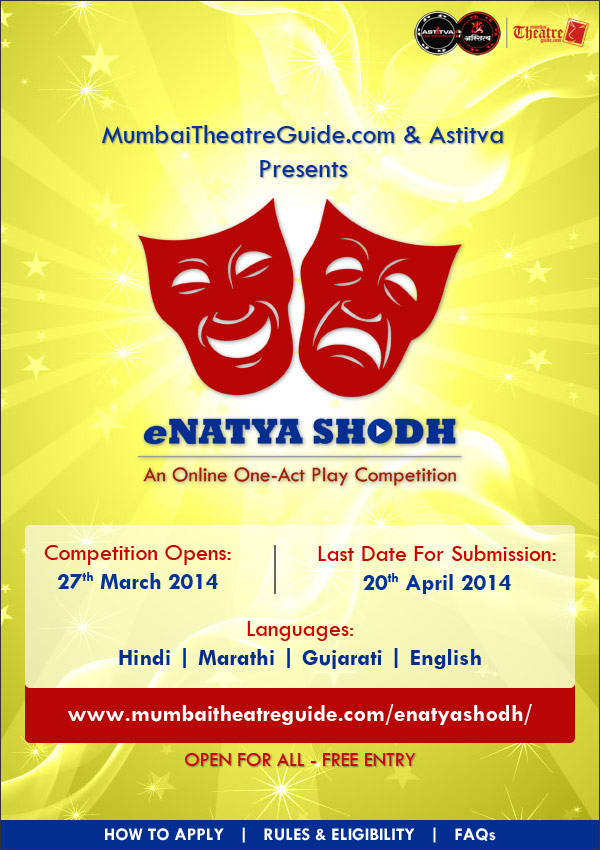 Mumbai: Astitva & Mumbai Theatre Guide have collaborated for One-Act Play Competition eNatya Shodh with an aim to take one-act plays to a larger audience.
Every year, a number of one-act plays are staged but they don't reach out to the desired audience mainly due to commercial limitations. Moreover, they are not widely staged in multiple locations unlike the commercial theatre productions and full length dramas.
eNatya Shodh With an idea to take these talents to a wider audience through a platform that would not incur major cost for the performers, Astitva & Mumbai Theatre Guide are jointly holding a One-Act Play Competition to foster and encourage playwrights, performers, directors, whether amateur or professional, who will be judged on the quality of their One-Act play, and on its suitability for streaming it through online web-based virtual theatre setting. These plays will be judged anonymously and equally by an adjudication panel along with the online web community navigating and viewing them online.
The participation is open to every possible nook and corner of the globe that is connected by web. All it requires is web connectivity and a taste to watch these crisp productions, that would be previewed and shortlisted by a panel of judges, ensuring good quality productions that deserve to compete in the universal arena of one-act plays meet its right audience.
The best adjudged plays will receive cash prizes and will also have a ticketed show event for their plays. That's not all. From the day of final presentation of awards till the three finalists are viewed online by the viewers (life time), the revenue generated by the channel will be shared 50:50 with the three finalists.
To participate and know more about the competition, may visit http://www.mumbaitheatreguide.com/enatyashodh