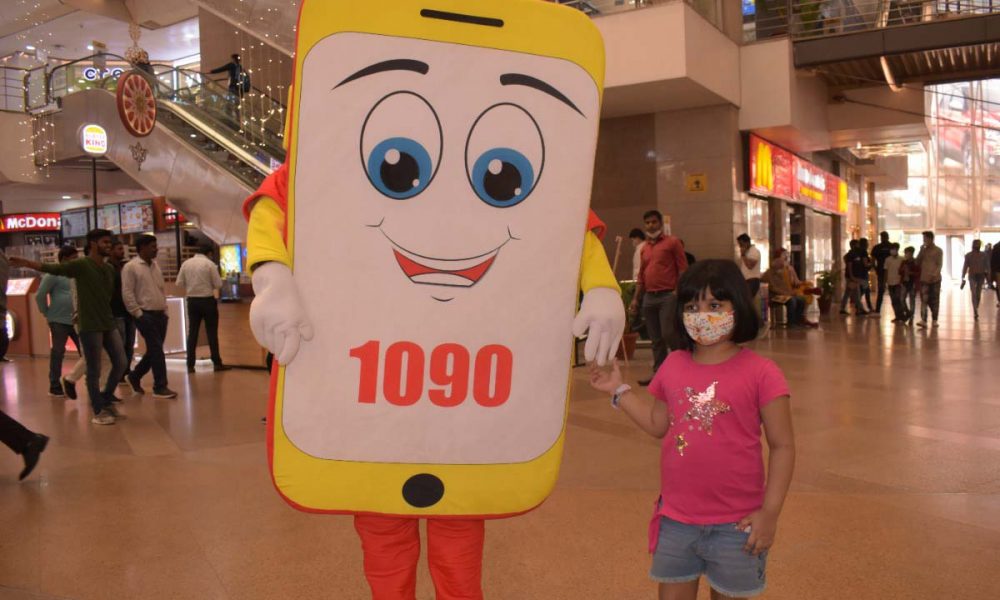 Going with the motto "Mobile Haath Mein, 1090 Saath Mein", Uttar Pradesh's 1090 Women Power Line (WPL) service caters to 11 crore women of the state with the sole mission of ensuring their safety and security through various interventions and initiatives. 1090 WPL comes under the umbrella of the Women and Child Security Organisation (WCSO), a dedicated unit of Uttar Pradesh Police.
The 24×7 operational, centralised Contact Centre in Lucknow handles around X calls related to eve-teasing, stalking, domestic violence, sexual harassment and cyber-crimes against women like cyber bullying, morphing, blackmailing, etc. All the calls are handled by an all-women team of trained police personnel who empathetically listen each and every call and take an appropriate action for the resolution. The anonymity of the victim is maintained at all levels.
In phone or cyber-related abuse complaints, a team of cyber experts comprising of police personnel trace the origin of the call and digital footprints to identify the culprit and subsequently take appropriate actions ranging from counselling of the culprit, contacting social media platforms for the removal of the disturbing content, to taking legal action against the wrongdoers and repeat offenders.
Despite the high volume of calls, 1090 WPL is able to resolve more than 99 percent of complaints.
Collaborations for special assistance:
– The threatened victims of family discord matters are counseled by a panel of trained and experienced counsellors of UNICEF.
– 1090 WPL is seamlessly integrated with UP-112 helpline which ensures prompt response in cases requiring emergency assistance.
– All the 1544 Police Stations of the state are in cohesion and synergise together with 1090 WPL to take action at the local ground level.
– Teams of Google and Meta assist in the quick removal of obscene and disturbing content on their platforms viz. Youtube, Facebook, Instagram and WhatsApp.
State-of-the-art technology makes it happen: 
The modern, robust cloud-based system enables smooth running of operations between the various stakeholders and ensure a seamless functioning. An e-dashboard has been created which provides rich visual presentations of data for the officials to keep a tab on the status of complaints and their timely resolutions. The e-dashboard also helps in retrieving historical calls data and assists in decision-making and strategising approaches for future needs.
Transforming human behaviour through campaigns
Syncing with Government of Uttar Pradesh's programme Mission Shakti which is aimed at promoting the security, dignity and empowerment of women, 1090 WPL has taken some bold steps in the direction and launched various outreach campaigns, both online and offline, to enhance public awareness and transform the behaviour and attitude of the people towards women. In collaboration with UNICEF, UN Women and Facebook, 1090 WPL started Hamari Suraksha -an online community engagement initiative for reaching out to the masses in the digital space and creating awareness about the prevention and redressal of crimes against women and educating them about gender equality, legal provisions in various laws, encouraging them to report cases of molestation and violence, tackling adverse and unwanted situations and at the same time instilling fear among the potential offenders.
Broadening the horizon of Hamari Suraksha campaign, 1090 WPL has taken a holistic approach by defining the roles of various stakeholders with #HumForHer and #FarqPadtaHai campaign, where 'Hum' constitutes individuals (both men and women) and institutions which play a pivotal role in ensuring safety for 'Her' i.e. every girl and woman, and through their active participation they can bring the change (Farq) in the society.
Several notable personalities from different spheres have supported the campaign and helped it reach to the masses. Bollywood actress Ms. Bhagyashree who also launched 1090 WPL's mascot recently. The mascot is a caricature of a mobile phone with humanly characteristics which would help connect with people effectively.
After the integration with UP-112, 1090 WPL is now engaging men and boys so as to involve them in seeking help for a woman in distress around them at public places, workplaces and societies. Time-to-time, 1090 WPL organises programmes involving school and college students, NGOs, and people from different walks of life and sensitise them about various women safety related issues.
An appeal to every girl and woman: If you are in distress or you see any girl or woman in distress, do not hesitate to call 1090. We are there for you, listening to you!