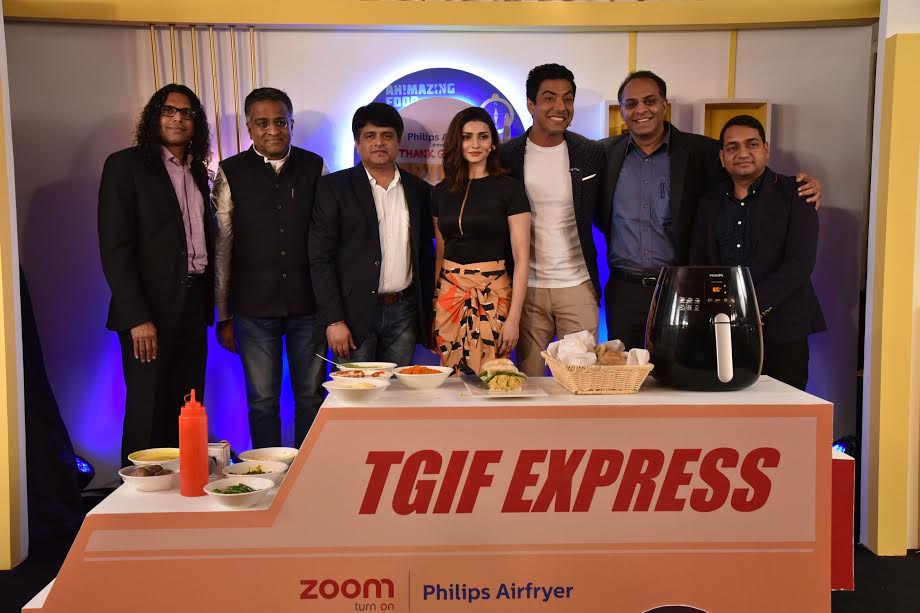 Mumbai: On a very special afternoon, at a first-of-its kind treasure hunt destined for foodies, ZOOM, the flagship Bollywood and Lifestyle channel of the Times Network, in partnership with Philips today announced the launch of the third season of their show, 'Thank God It's Fryday', at a glittering event held in Mumbai. The popular series that combines food and fun had celebrity chef Ranveer Brar and Indian Bollywood film and television actress Prachi Desai board the TGIF Express that will travel across 8 cities namely Mumbai, Chandigarh, Chennai, Gurgaon, Varanasi, Kolkata, Vadodra and Indore to discover the treasured recipes from across country.
Commenting on the show launch, Mr. Ashit Kukian, President-Revenue, Times Network, said, "Looking at the success of Season 1 and 2, and with the demand for more from our foodie viewers, we are pleased to announce the new season which is a treasure recipe-hunt. The show offers a lot of tadka and twist in each recipe and it promises to offer the most delicious and treasured fried food of each city which can be made healthy with the use of Philips Airfryer. We promise viewers will have a more engaging, mouth watering and an exciting ride on the TGIF Express 3.0."
Commenting on the show launch, Mr. A.D.A Ratnam, President, Personal Health, Philips India said, "It has been an extremely satisfying partnership with Zoom. With every edition of TGIF, we take our pride – Philips Airfryer – one step further and prove to everyone that this is the only appliance that can give you best of both the worlds – taste as well as health. TGIF Season 3 comes with an exciting new format but with the same unbeatable combination of Philips Airfryer & Chef Ranveer which I am sure, will leave you hungry for more."
A sneak peek into Season 3 of the show was shared at the glittering event combining healthy food with celebrity chef Ranveer Brar and the Rock On fame actress Prachi Desai, who created healthy dishes air-fried on Philips Airfryres. Additionally, the celebrities engaged the media with a fun-filled treasure hunt wherein the winners were gratified with exciting goodies.
Chef Ranveer Brar, the culinary expert and also the brand ambassador of Philips Kitchen Appliances, will set out on a treasure food-hunt in the TGIF Express with his 8 celeb buddies across 8 cities to find their 8 most memorable dishes. Chef will taste the local trademark delicacies of the city, re-creating them with his tadka and a twist, while on the go with the Philips Airfryer guaranteeing same taste but with 80% less oil. As a part of the treasure hunt, he will interact with legendary restaurant owners and city locals for clues. The show will also feature other exciting experiences of the Chef like visiting his celeb buddies' favorite restaurants/dhabas along with live interactions with fellow foodies in the form of food games that will pique viewers' mind buds.
Commenting on the show, Chef Ranveer Brar said, "TGIF gets even more fun this time around as I go treasure-hunting in my TGIF Express across 8 legendary cities to find the favourite dishes of my dear friends. I will be recreating those dishes with a healthy twist, but the flavour will still take them down memory lane. After all, for us, Indian Food is the real treasure!"
Recently, the popular TV show also won Gold at the Indian Content Marketing Awards for Best Branded Content on TV for 'Thank God it's Fryday Season 2'.
Join Chef Ranveer Brar and his celeb buddies as they discover the legendary recipes of 8 iconic Indian cities on the TGIF Express.