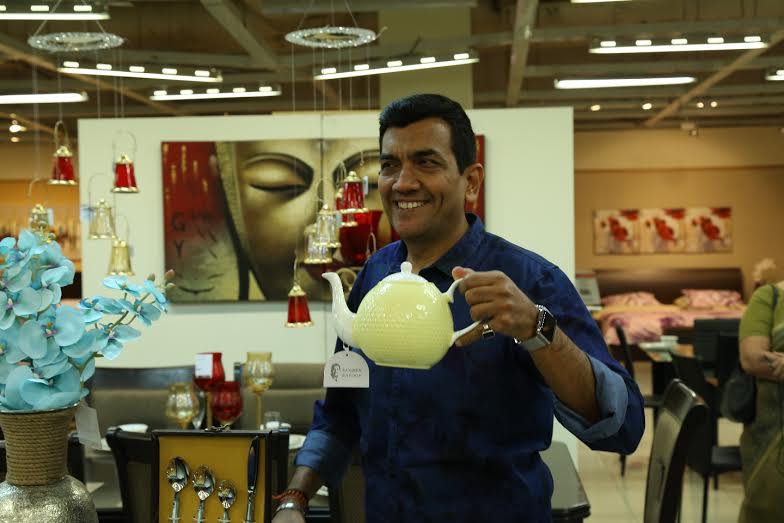 Jaipur: The Pioneers of the Fine Bone China industry in Indian market, Clay Craft India Pvt. Ltd, have recently collaborated with Celebrity Chef Sanjeev Kapoor to develop and launch the premium range of Tableware products under the Brand Sanjeev Kapoor.
Mr. Bharat Agarwal Managing Director, Clay Craft India Pvt. Ltd said, "We take pride in announcing our collaboration with the world renowned Celebrity Chef Sanjeev Kapoor to launch Premium Fine Bone China Tableware under the brand – Sanjeev Kapoor. It's our strong belief that the brand Sanjeev Kapoor will redefine the premium space in Fine Bone China category in India. The product line is very versatile and offers wide product options to consumers in terms of varied shapes and colours backed with our quality manufacturing. The Sanjeev Kapoor range has been designed to celebrate and reflect the joy of making food and presenting it on a series of colorful and stylish platter. The products go through stringent quality testing to ensure that the finest quality product reaches our consumers."
Commenting on the product launch Chef Sanjeev Kapoor said, "We are extremely proud to have launched the stylish range of tableware products with Clay Craft India Pvt. Ltd, which is a leading company in the Fine Bone China tableware segment. Today, food is not merely limited to the senses of taste and smell but has gone beyond this to also include the senses of sight. I personally believe that food served tastes best, when presented best. As the Indian consumer grows their knowledge of food they are also becoming extremely exposed to the variety of things that go along with food. The modern consumer is becoming smarter in their choices hence there is a growing need for the industry as a whole to evolve and meet these demands. Keeping this in mind, we have weaved in the lifestyle and fashion elements in our newly introduced tableware Range, that has been designed in the manner that the color schemes and shapes meet the contemporary and changing preferences of consumers today."
Mr. Vishal Sinha, Business Head, SK Brands Pvt Ltd, elaborated on their product philosophy saying "Our focus is to bring-in products that will add the lifestyle experiential quotient to the house-ware and kitchenware segment as there is an evolving trend for products, which are aesthetically suited to modern settings. The SanjeevKapoor range of products is at par with the global standards and redefines the experience from pre-cooking, cooking to table arrangement and dining."
The Sanjeev Kapoor range of Fine Bone China tableware products have been carefully handcrafted in Jaipur, Rajasthan by the skilled artisans. Ranging from elegant tea sets and ice cream cups to humble apple bowls, each piece has been designed keeping in mind the changing lifestyle preferences of the modern Indian consumer. Patrons can choose from a lively range of colours including peach, light yellow, ice blue, purple, sand brown and mint green. Adding a twist, one can choose accessories in different shapes such as jelly dish, basket bowl, boat, and ramekin.
These trendy sets are part of the exhilarating line of houseware products that have been recently launched and made available at select stores of HomeTown located in Ahmedabad, Delhi (Rohini), Noida, Gurgaon, Mumbai and Kolkata.