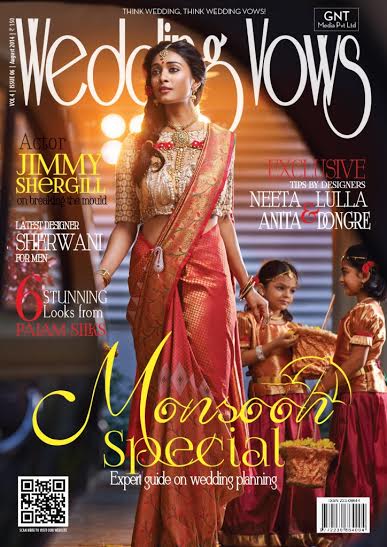 Chennai: The rains are said to depict a new lease of life with the water washing away past debris. It is perhaps for this reason that they say it is good luck to have rain on your wedding day! Having this in mind we present the Monsoon Special for the August edition.
Talking about the Monsoon Special, Mr. Dakshna Moorthy N Naidu, The Chief Editor and Publisher, Wedding Vows Magazine, mentioned, "Addressing all the concerns and issues of a perfect monsoon wedding, is our Monsoon Special issue this month. We have beauty experts sharing tips on keeping your skin and hair healthy. Experts in wedding planning on the other hand, talk about all the things you must keep in mind for planning a flawless monsoon wedding and starting the new journey.
As for monsoon weddings, if planned well, everything from overcast skies to a light mist to even a downpour can make for a dreamy wedding day!"
Classy, feminine and eternal saree has become a wardrobe staple that has attained appreciation on a global platform as well. We at Wedding Vows celebrate six yards of femininity, elegance, and grace by for the brides-to-be as our fashion story. The lovely cover girl, Satarupa Pyne looks graceful in the magnificent and gorgeous sarees sponsored by Palam Silks, photography by Kapil Ganesh and styling by Uma Bhimsingh.
Jimmy Shergill in an exclusive interview with Wedding Vows introspectively looks back on his journey of nearly two decades that started in 1996 and continues till date.
We know assembling the wedding trousseau has left you no time to plan your honeymoon wardrobe. Actress Neha Dhupia, who is also Style Director at online shopping portal LimeRoad.com, comes to the rescue and creates five stunning looks for your much awaited honeymoon.
Between fusion and confusion, diffusion has made its way through to the fashion arena. Though without jargon, it is a simple process of fusion between Indian and western style of clothing. Designer Neeta Lulla talks more about fusion and diffusion in the fashion industry.
Bring out the umbrella and say hello to a rainy day fashionably! Fashion designer Anita Dongre tells you how to give the pouring sky a stylish nod.
A clear complexion skin is what we all desire. Unhealthy habits and lifestyle, however, make that impossible. Dr. Blossom Kochhar, founder of leading skincare company Aroma Magic, shares 10 easy homemade ways to get a flawless skin.
Sure putting on makeup every day is a slight hassle; well then why not junk the whole process with permanent makeup! More like cosmetic tattooing, permanent make up is fast becoming a preference with women. In an exclusive interview with Wedding Vows Permanent Makeup Expert, Gunjan Gaur talks to us about permanent make up being the new fad.
From traditional Kamdani embroideries to psychedelic sets, epaulette style and new trends, the Shree Raj Mahal Jewellers India Couture Week in association with Logix Group had a lot to offer. We take a peek-a-boo into the latest trends.
When it comes to Indian weddings, sherwani is the most popular option for grooms across cultures. However, the traditional Mughal attire could be a tricky affair to pull off. Our fashion experts Kapil & Mmonika, Parul J Maurya, Study By Janak and Sarab Khanijou choose what looks best on you.
A monsoon wedding might sound a little clumsy but if planned well, can reap many benefits as compared to winter weddings. Ashu Gupta, Director, Good Times Concepts Events shares informative tips on planning a perfect monsoon wedding.