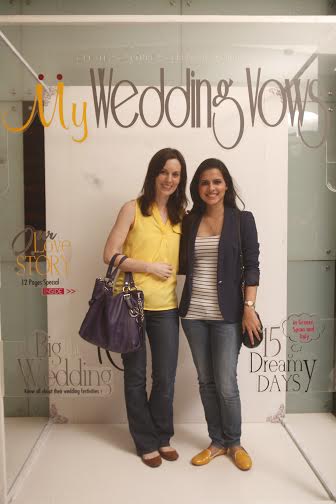 Chennai: Wedding Vows magazine launches India's First Personalized Magazine Service, "My Wedding Vows" at Sathyam Cinemas, Chennai. The ultra-luxury service is available for couples tying the knot offering them a once-in-a-lifetime chance to be on the cover of India's favourite wedding lifestyle magazine.
Talking about the launch, Mr. Dakshna Moorthy N Naidu, The Chief Editor and Publisher, Wedding Vows Magazine, mentioned, "Wedding Vows recognizes the fascination for glamour quotient during weddings and also realizes wedding stories are joyous, where no two stories are the same. Hereby, we present, 'My Wedding Vows'. This customized magazine will be a timeless memory that marks the beginning of their most beautiful journey of togetherness. The couple experiences a high-end fashion photoshoot designed, directed, styled, conceptualized and executed by crew members who spell excellence in their respective forte. Our dedicated editorial team then puts together the story, end product being the personalized magazine, My Wedding Vows."
My Wedding Vows, a premium service, allows couples to create, capture, celebrate and cherish moments of togetherness. The couple also gets a chance to live the dream of being on the cover of a lifestyle magazine.
The service begins with a dedicated day of high-end fashion photo shoot for the couple by ace fashion photographers, best hair stylists, leading costume stylists and celebrity makeup artists. Subsequently, the editorial team then interviews the couple, family members and close friends, thus resulting in the end product, My Wedding Vows with photo spreads of the couple's fashion shoot.
An exclusive personalized magazine featuring the couple on the cover and a lot more is exclusive for private circulation. The couple can choose to give this personalized magazine as a wedding invite, a giveaway gift, or a post-wedding gift to friends and family who attend their wedding.
The price of your personalized My Wedding Vows magazine is On Request and can be customized according to each client.
Ace fashion photographer, G Venket Ram, mentioned, "There are a lot of people who dream to get them photographed and I feel its everyone's dream to get a lovely photoshoot done during the wedding and just after the wedding. It's a new concept (My Wedding Vows) that's gradually coming into India and you need the right kind of people in terms of technical support, photography, hair, location especially the concept and conceptualizing the whole visual. I'm sure a lot of people will look forward for this exercise (My Wedding Vows) because these are moments that can be captured and stored in your memories and share with friends and even your children. My Wedding Vows is a magazine which is customized to you and the whole team takes the effort of making sure you get exactly what you wanted it to be."
Speaking about the concept, Vikram Mittal, renowned makeup artist, mentioned, "The idea where real couples come together and actually make their dreams come true is an amazing concept that we were a part of. What we shot for My Wedding Vows was for the couple who is soon to be married and we have the makeup and hair and the whole team trying to give the couple a fun day where they could come together and fulfill their dream the cover. We as professionals got the chance to experience the joyous moment of the couple."
Leading Stylist Mahima Shukla, also mentioned, "The couple gets a star treatment and whatever their inputs are, we as a team incorporate it. Maybe 20 years later, while flipping the pages of their My Wedding Vows magazine, the couple will remember their shoot as an easy effortless day."
My Wedding Vows is a product of the Wedding Vows magazine.