Bollywood actor and actress are always seen in competition when it comes to box office collection. On the other hand if we say their friendship is also very strong then some people may not believe it.
But yes, it's the truth.
Recently, Sonam Kapoor and Anushka Sharma shared super hot selfie picture on the internet and it is creating buzz in the industry.
Well, these days actress Sonam Kapoor is busy with the promotion of clothing brand and with this special starting actress Sonam presented a beautiful outfit to Anushka.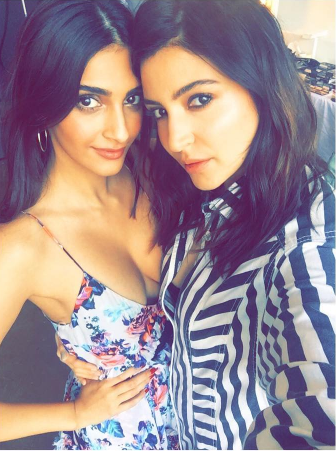 She wrote, "Dear Anushka, I admire that you celebrate your womanhood and feminity. I chose these for you, if they aren't your size or not your style, please let me know."
In relation to this Anushka Sharma replied, "Thank u for this beautiful present & all the very best for ur clothing line @sonamakapoor & Rhea!You girls will smash it out of d park."
For the first time the actresses will be seen sharing screen in Sanjay Dutt biopic.