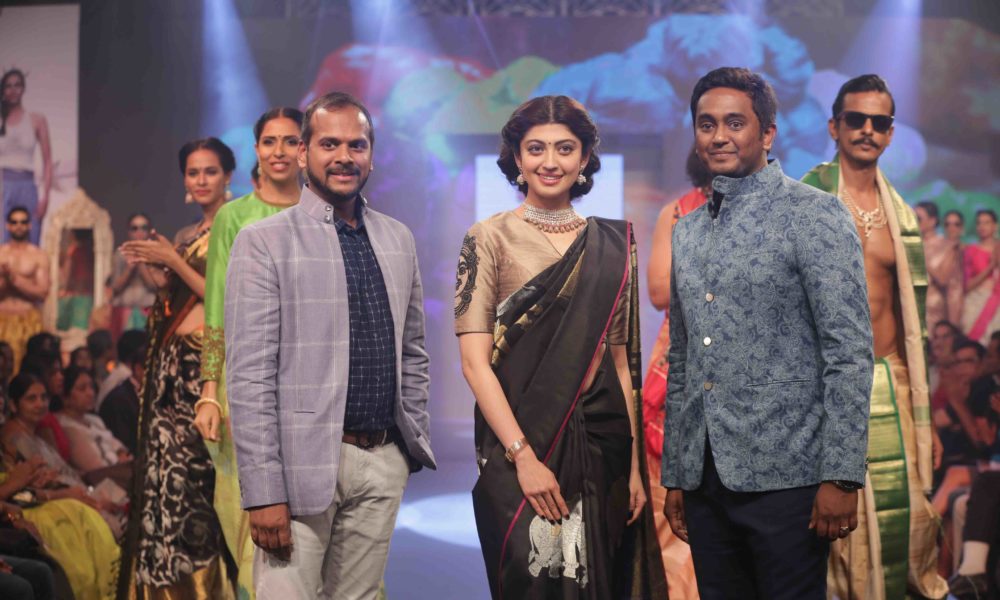 Crocs Mysore Fashion Week gets superior, enhanced and bolder this season. The third day annual fashion burlesque take off in the peaceful ambiance of Radisson Blue Plaza, Mysore.
The closing moments of Crocs Mysore Fashion Week gave way to some edgy, dynamic and vogue setting designers to showcase their extraordinary collection sheathed by sizzling models, climaxing with striking showstoppers.
The dusk witness a galaxy of attendees from a variety of genre – socialites, fashionable consumers, invited VIP; elite throng entrepreneurs and more who will get tranquilized in the luxurious visualization of the collections.
DREAMZONE – Theme – Reflection
Reflection is sort of mirror work with dark shiny surface in tradition form.
Radhika Bhardwaj was seen walking for Designer label 'Roshan'.
Followed by ROSHAN, Bold beauty – the collection doesn't define a woman but it enhances what womanhood of todays. Bold colours and prints define how woman of today function. They are free spirited and have the will to show the world who they are and what they want to be. Using geometric patterns to the collection give finished effects. It gives a complete feeling and a bold look.
South Actress Shruthi Hariharan walked the ramp for Designer Reshma Kunhi.
Designer RESHMA KUNHI – Reshma Kunhi is best known for her highly stylish and classy contemporary Indian wear, combining traditional aesthetics with modern designs the clothes are exceptionally designed, well-tailored and finished. Awe-inspiring collection of Indian bridal wear and Indian wedding outfits complete with elaborate themes, craftsmanship, embroidered bodices with modern fabrics and cuts.
Stunning Pranitha Subhash walked the ramp for Vijayalakshmi Silks.
Designer Vijaya Lakshmi – The label 'VIJAYALAKSHMI Silks' speaks volumes about her design sensibility and thought process. Her cheerful designs are perfect for the conjugal season. The brand has always stood for the conservation of Indian legacy while adapting to the style need of the day. Not only craftily weave sarees but also seamlessly weave stories of the past into the present to suit the aspirations of the modern woman"
South Actress Rashmika Mandanna dazzled the ramp for Hyderabad based Shravan Kummar.
Shravan Kummar- A woven tale of yore: Shravan Kummar reveals his collection of ensembles inspired by the art, taking a step in upholding this legacy. Theatre inspired Indo Western garments, each garment is made out of two to three Gollabhama sarees combined with Telia Rumal, and layered off-shoulder collared anarkalis, and ruffled sleeves give a dramatic feel to the garments.
Indian Women's Cricket team's vice caption Harmanpreet Kaur was seen walking for finale show for Designer Archana Kochhar at Crocs Mysore Fashion Week 2017. The designer showcased 'Melange' collection which begins with a range of stunning red carpet evening gowns with structured ruffles and intricate cutouts. The collection further flows into a beautiful ethnic contemporary feel with hand crafted Lucknowi lehengas and anarkalis in soft pastel pallets of ivory, peach, Tiffany blue and hues of black and gold.
Talking on the occasion Mrs Jayanthi Ballal, Director, Mysore Fashion Week expresses, "It is indeed our pleasure to host the grand season 4 of Crocs Mysore Fashion Week. As a property, we have evolved over the years in terms of our offering to the crème de la creme of the city. We were happy to associate with International shoe brand Crocs, the shoes are really stylist and edgy. The gorgeous ensembles and present exemplary designs added a striking charm as always to the show".
Speaking on the association with South India's largest fashion event, Deepak Chhabra, MD, Crocs India said: "In only its fourth season, Mysore Fashion Week is already a premium event to be collaborated with in South India's fashion circuit. We will be showcasing a completely new look which is highly comfort driven yet very stylish. We are really looking forward to this next step up in the 'Style sector' and we are sure Mysore will do great justice to the brand.
Mysore Fashion Week – final day rolled out the red carpet to famed designers and celebrities. The Fourth season finale promised to drive home the brand's innovative magnificence, individual style and celebrated victorious persona.
Mysore Fashion Week bringing out a truly breathtaking weekend of fashion festivity for Mysore's fashion conscious-elite.