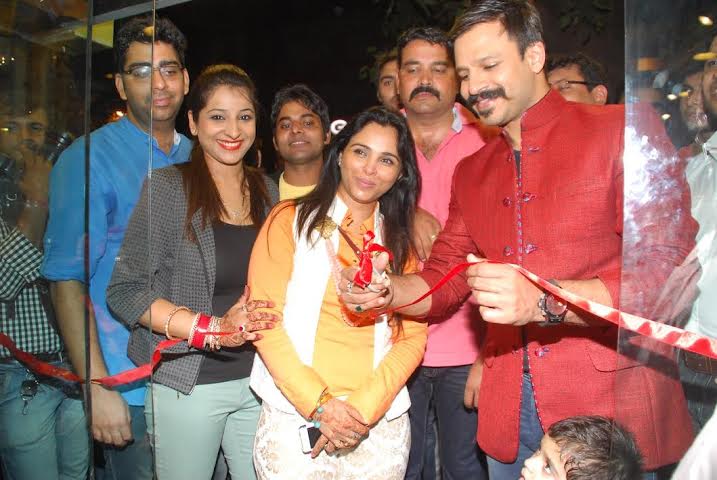 Mumbai: Jaipur based fashion designer Kirti Rathore's flagship menswear studio was launched by actor Vivek Oberoi in Mumbai. Kirti Rathore along with Mohak Gupta of EXIM Events welcomed the guests. Manoj Nandwana, Bigg Boss fame Ejaz Khan, Indian Idol fame Vishal Kothari, Gladrags Model Sagar Mantoo, Vasant Bhandari were present at the launch. "I feel Mumbai is an untapped market and has huge potential for Rajasthani authentic wear. I want everybody to have easy access to such amazing designs and give them a royal experience." said Kirti Rathore.
Vivek Oberoi who's a good friend of Kirti tried wearing couple of suits at the event. In fact he chose to wear a jacket designed by Kirti for this special evening. Apart from Vivek, Kirti has even styled for his 2 year old son Vivaan. It was during Diwali last year that she gifted him a customized bandgala. "I am extremely fond of Kirti's collection. I make it a point to wear her designs for every important occasion as she understands my style."
The studio boasts of authentic Jodhpuri designs to give an easy access to the lovers of this fashion. Kirti Rathore Designs has a royal touch with a distinct ethnic look. The amalgamation of prints and colours make the Bandgalas a very unique design to wear.
Apart from this, one can place their hands on a range of variety like formals and casuals inside the store. Handcrafted idol pieces carved out of wood find themselves placed in the store for the admirers of this art of work. 24 carat Gold plated foil with Kundan Meena work makes it extremely attractive. The collection is priced at affordable rates making it accessible for everyone.
The idea behind launching a store in Mumbai was seeded in Kirti Rathore's mind by her friend and renowned producer Boney Kapoor. Infact, Vivek Oberoi seconded this thought which gave Kirti the confidence to go ahead with the store.
The launch event was executed by Exim events.
About Kirti Rathore:
Born in a Rajput family, Kirti belongs to the Naruka clan that ruled Alwar, but no way did this blue blood in her veins influence her profession. In fact no one in the family could see a budding, fashion designer in little Kirti.After studying 2-3 months in NIFT she got a call for RAS interview (Rajasthan Administrative Services) and had to leave NIFT but destiny had something else in store for her and a budding designer and a bureaucrat became a housewife. But her dream to carve out a niche took her back to the glittering world of fashion. She started a humble and determined beginning from her home with one second hand machine and one tailor. The machine was old but the ideas were fresh. Brand Kirti Rathore has been launched across India and even retails from there. Kirti Rathore launched her label in the year 2012.
Kirti Rathore boasts an enviable clientele like Vivek Oberoi, Boney Kapoor and Arjun Kapoor.
She has been awarded numerous times which includes 'Award for women of substance' by Health Minister Mr. Raj Kumar Sharma, 'Young Achiever's Award' by Whistling Woods International, Woman Icon Award by Rajasthan Government, DNA Woman of Substance Award, National Young Achiever's Award by The Journalism Association of India among others.
About Exim Events : Mohak Gupta is the promoter of EXIM Events. It has established its name in real estate and construction sectors and now enters in Events Industry with big plans