Mumbai: Veteran Designer Ritu Seksarai, an expert bridal couture, collaborates with team 'Mastizaade' to fuel a noble initiative for World Cancer Day that falls on the 4th of Feb 2016. Ritu Seksaria and Mastizaade stars, Sunny Leone, Vir Das along with Director Milap Zaveri supported the cause in a big way by clicking selfies with the cancer kids at Vyoum store in Juhu.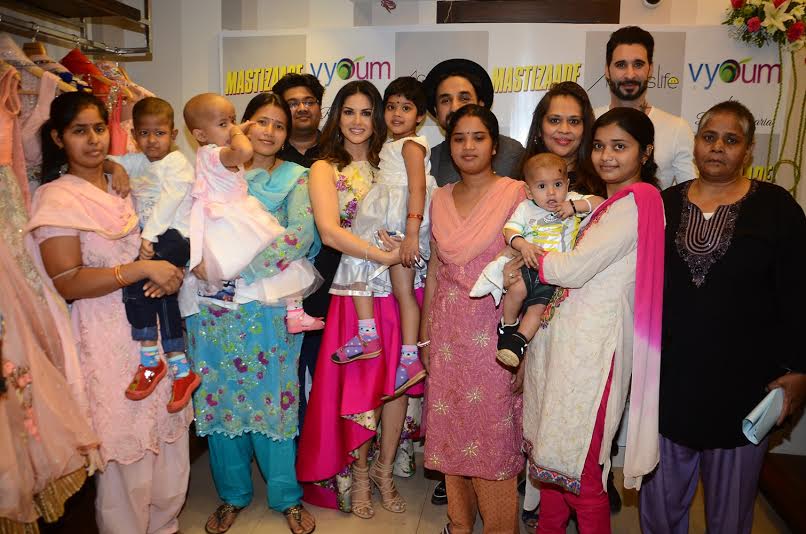 Together, they promoted the idea of 'Selfie for a cause – Like for a Life' where they clicked a selfie with the cancer patients & uploaded it on their instagram account. The amount of likes the picture gets till the 4th of Feb, an equal sum of money will be donated to the Cancer NGO. So all you got to do is like for a life! Also, you can visit Ritu Seksaria's fan page on Facebook and contribute likes on the picture. More likes means more help to the cancer patients who could really use some help.
Mastizaade star Sunny Leone mentioned, "This is the least we can do to fight cancer. We all need to contribute for people who are really seeking out help. This activity will bring hope to someone's life, which is a beautiful thing."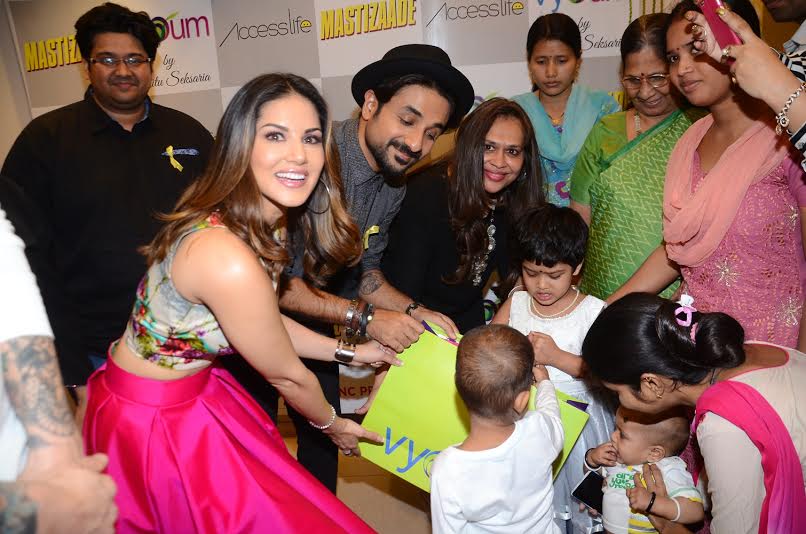 Actor and Comedian Vir Das said, "I'm glad I could come across such an opportunity. To be able to help the cancer patients is a privilege for me. And spreading more and more awareness is a progressive step towards ending this problem."
Ritu Seksaria feels, "Someone close to me too had cancer; however, it could be cured as it got detected on time. This social activity is more of an emotional thing for me. When I hear about how little children who are diagnosed with cancer do not get the right treatment at the right time, it really breaks my heart. I would want to do as much as I can to help."
This week long campaign has begin from Jan 27, 2016. Vyoum by Ritu Seksaria's eclectic bridal collection awaits the ladies, who are gearing up for their D-day, at her store Vyoum in Juhu. Her designs are dream-like and lightweight, perfect for the modern bride and her entourage. And guess what! 10% of anything you buy will go towards the Access Life Assistance Foundation.