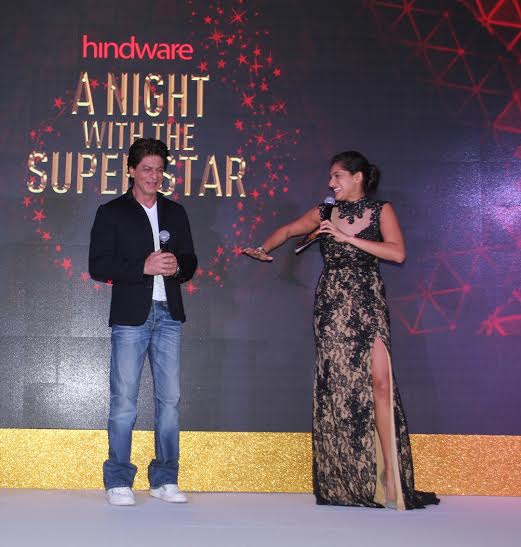 "How can I forget her – She is good" said Shah Rukh Khan about the winner of India's best Female Emcee Award & prolific speaker who has performed and enthralled audiences in more than 30 countries- Kubra Sait.
When Kubra Sait hosted the Hindware book and app launch with Shah Rukh Khan, the die hard fan she is was elated? Oh no no, she was actually overwhelmed to have a brief rendezvous with the star who has epitomized romance on screen for the longest time "Since the time I can remember, I have been a big Shah Rukh khan fan or you can say 'I am Shah Rukh girl'. This was not the first time I hosted an event with him, I have hosted a couple of events with him in the past but the aura he brings to the stage has never changed. He is probably the only actor in Bollywood who has the wit and the charm to wow the audience. It is always a pleasure to share the stage with him; hopefully someday I will get the chance to share the screen space with him"
Throwing some light about the skills of an Emcee, Kubra says "The first and the biggest challenge for an anchor is not be enamored on stage. The anchor needs to have a presence of mind not only to take the show forward, but also be ready for the unscripted parts that surely arise at a show of such stature. At no point in any show, can the anchor become the show. The anchor needs to always understand that he or she facilitates the smooth flowing of the events and creates moments for the people to remember"
Kubra Sait played the character of an Emcee in Salman Khan & Anushka Sharma starer "Sultan" for which she was bombarded with accolades and appreciation.