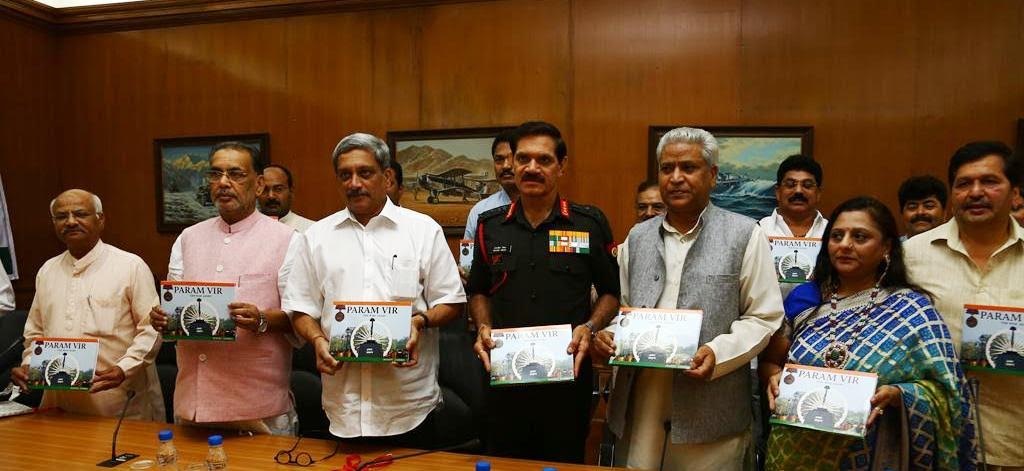 A book celebrating the lives of 21 Param Vir Chakra winners written by a well-known Indian social activist Manju Lodha was launched in South Block New Delhi at a special ceremony held in auditorium of the ministry of Defence by the hand of Defence Minister Manohar Parrikar. Param Vir: A War Diary by Manju Lodha captures 21 instances of bravery recounted by the friends and families of Param Vir Chakra awardees, the highest military honour bestowed by India to those serving in the Indian armed forces.
Army Chief General Dalbir Singh Suhag, BJP national general secretary Ram Lal, RSS Sahkaryawah Suresh Soni, Union Agriculture Minister Radha Mohan Singh, Defence State Minister Dr. Subhash Bhamre, International Court judge Dr. Justice Dalbir Bhandari, Advocate General NM Lodha, Maharashtra BJP Vidhayak Mangal Prabhat Lodha were present, including other key people.
Drawing out minute details from records, family members and comrades-in-arms she has created the most vivid character-portraits of the men in uniform in a crisp and engaging manner. For literature and history enthusiasts, her book Paramvir – not only talks about the Paramvir Chakra but the journeys of those who have been awarded the Ashok Chakra, Vir Chakra and Mahavir Chakra as well – right from 1947 to the Kargil War. Pertinent to that the Ashok Chakra is also awarded to civilians for their bravery.
Each story has a personal touch as she has spent a lot of time with the families and colleagues of the soldiers to understand their journeys and what made them the extraordinary men that they were.