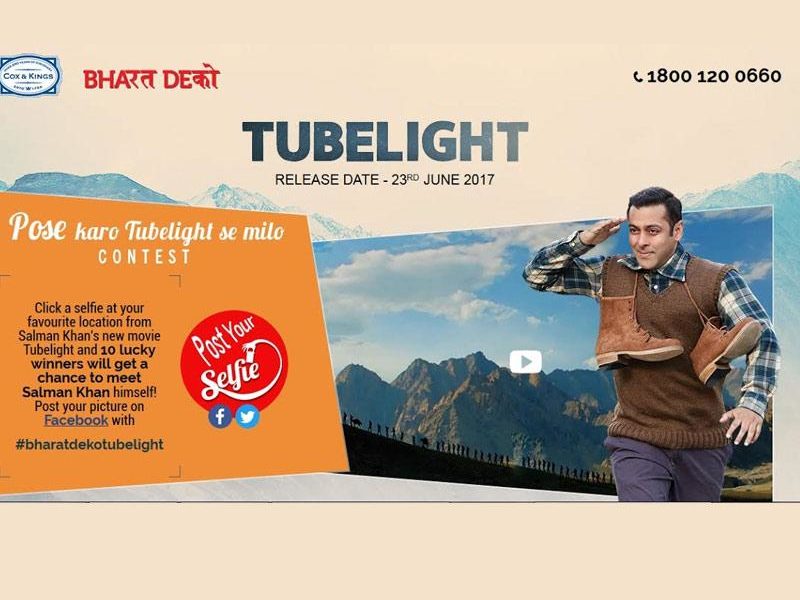 Your chance to meet Superstar Salman Khan is here!
~Cox & Kings partners with Tubelight to launch 'Pose Karo, Tubelight se Milo' contest ~
It's time to celebrate as Superstar Salman Khan's new film Tubelight is set to release on 23rd June. Joining the celebrations is Cox & Kings which has partnered with Tubelight to launch `Pose Karo, Tubelight se Milo' contest. The lucky winners stand a chance to live their fan moment of meeting Salman Khan.
Sparking curiosity among the fans about what's new in Salman Khan's next, they have already started making note of the locations where he has been dancing carefree with his real and reel brother Sohail Khan.
Moreover, it's music to the ears when the songs 'Nach Meri Jaan' and 'Radio' shot at iconic destinations of Ladakh and Manali are already making waves.
The contestants have to click a selfie at their favourite location seen in the movie and post it on Facebook with the hashtag #BharatDekoTubelight. Cox & Kings has curated special itineraries covering the specific locations where the movie was shot. Alternatively, one can simply visit the nearest Cox & Kings' store to book a package and click a selfie with Salman Khan's cut-out and post it with the hashtag. The lucky few will be picked from the hashtag feed and will win a once-in-a-lifetime opportunity to meet Salman Khan.
Speaking about the partnership, Yusuf Poonawala, Head – Bharat Deko, Cox & Kings said, "The film Tubelight will transport you to picturesque and scenic locations where the movie was shot and by booking our package you get an opportunity to meet your favourite Superstar Salman Khan.''
He added, "As part of our celebrations we have launched exclusive Bharat Deko packages called `Tubelight tours to destinations such as Manali, Ladakh, Shimla, and Amritsar, where the movie was filmed. ''
The famous songs of the film Tubelight provide a glimpse of the scenic beauty of North India.
Cox & Kings has also launched products keeping the movie theme in mind.