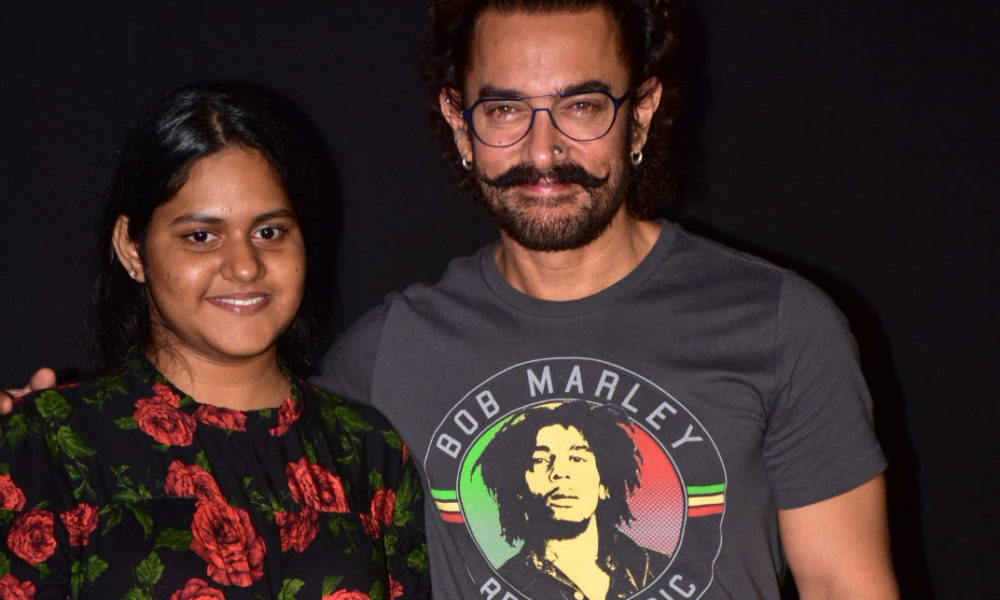 The very first song from 'Secret Superstar' titled 'Main Kaun Hoon' was launched earlier today at an event in Mumbai.
The song was launched in the presence of Aamir Khan along with director Advait Chandan and music composer Amit Trivedi, lyricist Kausar Munir and Zee music company's Business head Anurag Bedi.
Aamir Khan had earlier promised that he would be introducing the audience to many hidden talents aka secret superstars during the promotional journey of the film.
Staying true to his promise Aamir Khan introduced singer Meghna Mishra at Main Kaun Hoon song launch.
Main Kaun Hoon is the first song from Secret Superstar sung by Meghna, who marks her debut in the Hindi film industry with the song.
'Main Kaun Hoon' showcases Zaira Wasim aka Insu introducing herself as a singer who reveals her emotional state via a song. The song has an instant connect and could be relatable to anyone who is discovering themselves in the sea of people.
Aamir Khan introduced her and he said, "As I had promised there will be a lot of Secret Superstar. I would like to introduce the first secret super star. Meghna is 15 years old and we needed a singer who would lend her voice to Zaira's character. We needed a voice and we thank god we got her. The film was heavily depended on her. And the best way for me to make you introduce to her is to make to listen to her voice. I sincerely believe that Meghna is one of the biggest singing stars our industry will see in coming years".
Aamir also welcomed Meghna's parents Sanjay Mishra and Aarti Mishra on stage.
Aamir Khan also thanked music composer Amit Trivedi for his support. The actor shares how music is the crux of the Secret Superstar and how he is happy to be working with one of the most talented music team.
The film's trailer has been receiving much love from all quarters for its unique storyline.
Produced by Aamir Khan, Kiran Rao under the banner name of Aamir Khan Productions, Zee Studios, and Akash Chawla, Secret Superstar is written and directed by Advait Chandan. The film is slated to release on 19th October 2017.