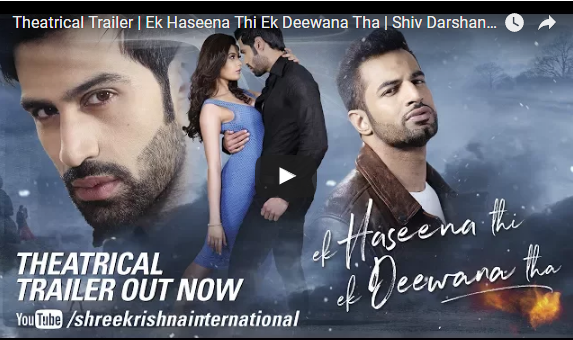 The much-awaited trailer of Suneel Darshan's forthcoming romantic mystery, Ek Haseena Thi Ek Deewana Tha (EHTEDT) has been digitally launched.
After launching the melodious and soulful tracks 'Tum Kaha The' and 'Hue Bechain', producer-director Suneel Darshan has launched the trailer of his movie featuring Shiv Darshan, Upen Patel and introducing new sensation Natasha Fernandes made under his banner, Shree Krishna International.
Since the musical thriller revolves around three characters and is an exhilarating journey of romance, passion, intrigue and thrill, the veteran filmmaker has particularly chosen fresh new face Natasha romancing the two dashing heroes – Shiv & Upen.
The film-maker who is extremely happy with their performances and sizzling chemistry hopes the subject and the soulful music will resonate with audiences.
While music has always been an integral part of all his films, Suneel has ensured that the music of EHTEDT too has an enduring value – accordingly he got on board his favourite music composer – music maestro Nadeem (of Nadeem-Shravan fame) who has belted out five fascinating scores for him.
The passionate filmmaker has shot EHTEDT at absolutely virgin landscapes of United Kingdom relentlessly for over 50 days, including Allerton Castle, South West Coast of Cornwall and caves to make it visually appealing.
Produced and directed by Suneel Darshan, Ek Haseena Thi Ek Deewana Tha starring his son Shiv Darshan, introducing sensational new find Natasha Fernandes & Upen Patel releases on 30th June, 2017!