Soorma is a story inspired by a real story and director Shaad Ali has tried to keep it as real as possible.
The director before starting the shoot and while shooting the movie too watched many footages of Sandeep Singh available online as well as with Sandeep himself.
They even visited the places various incidents happened and met the people related to Sandeep's life-changing journey.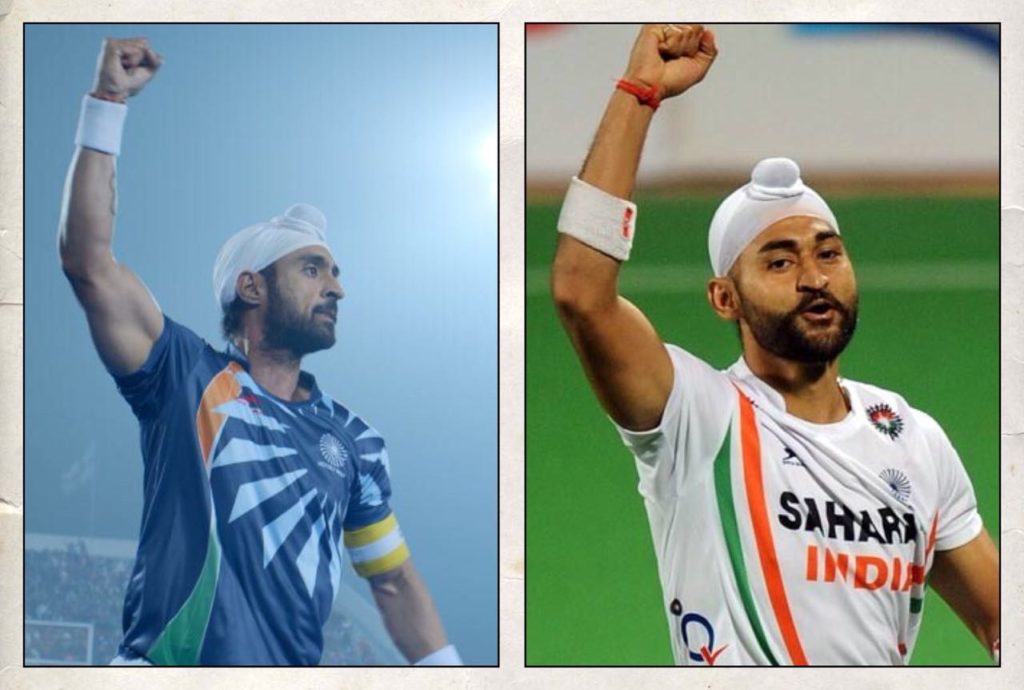 To keep the movie real Shaad even the casting of Sandeep's Character is done very correctly, even the director feels Diljit resembles like Sandeep.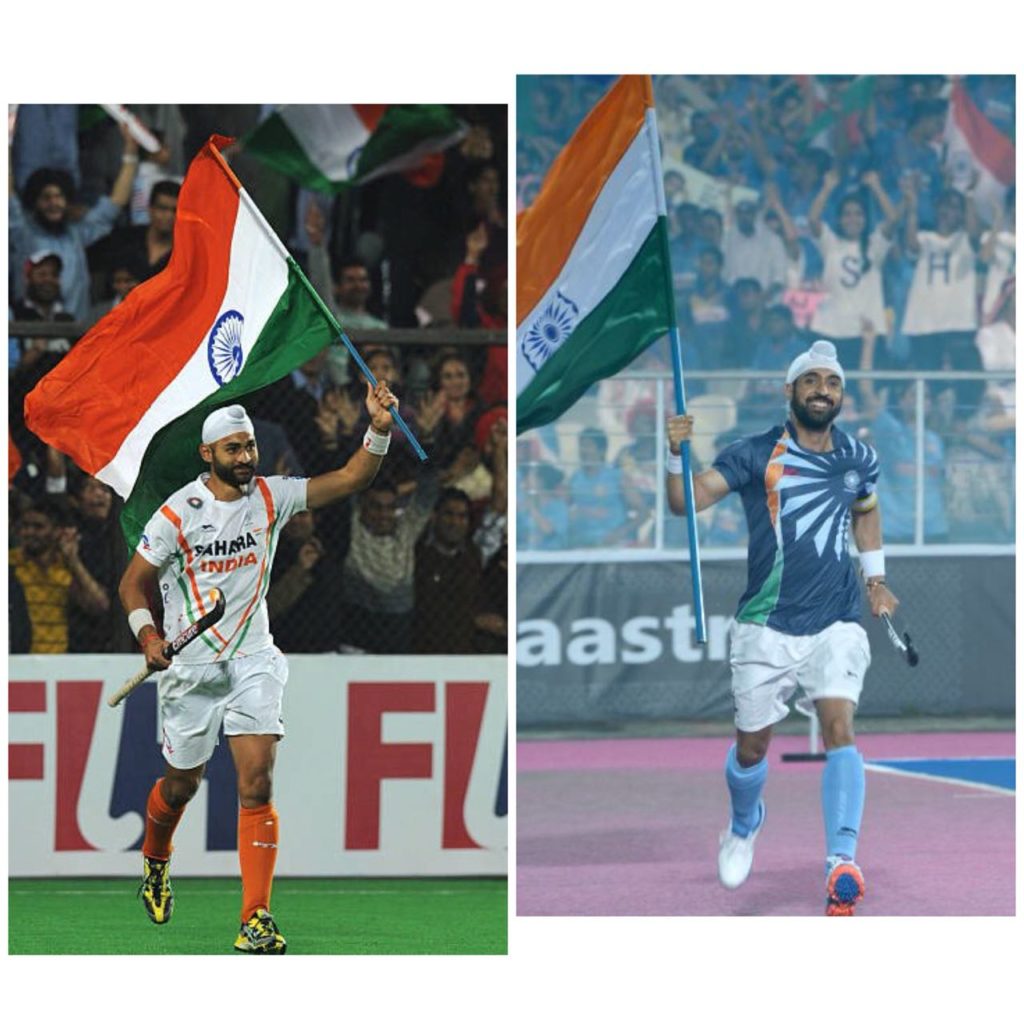 There are few iconic scenes from Sandeep's life which are recreated while on ground playing hockey.
Like Sandeep Singh was lifted by his entire team after a great performance in an international match. Shaad has recreated the same moment in the film as well.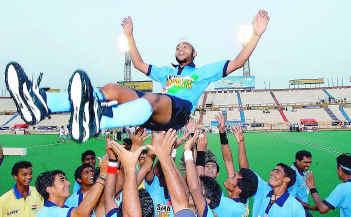 Shaad has even kept the posture and the stance of Diljit similar to Sandeep The legend's iconic winning shot with a huge smile on his face is also adapted in the movie.
The time the legend won a match for our country and took the flag and marched with pride on the field is also captured the same way by the director.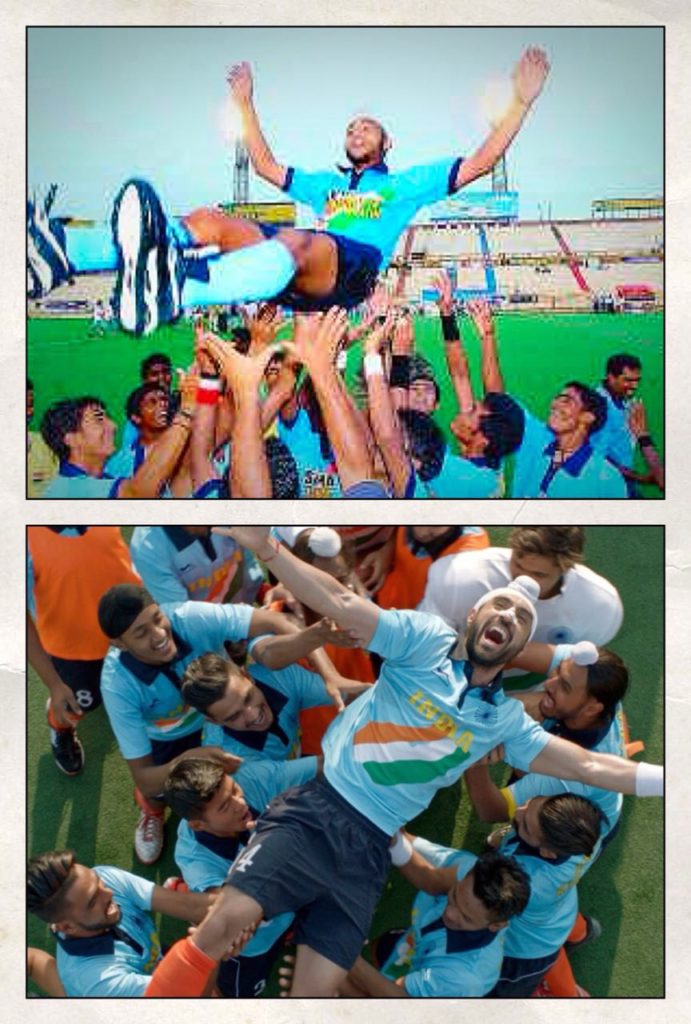 These are just one of the many moments created in the match and more pictures to release soon.
The film has been shot in his hometown Shahabad to capture the real essence of his struggle and the journey to become the hockey legend.
Soorma is a story of a forgot hero Sandeep Singh, who's story will inspire every individual in some or the other way.
Than anthem of the film Soorma anthem which released a few days back perfectly escapades how there are no mountains high enough for those who stand tall.
The trailer of the film had garnered immense appreciation from across the audience. It is an inspiring true story of the human spirit, about a player, who made headlines for his miraculous comeback after an unfortunate accident.
It is a lesser known fact that, Sandeep Singh has been hailed as one of the world' most dangerous drag-flickers of all time with drag speeds of over 145 km/hr which led to his nickname, 'Flicker Singh'.
Sandeep Singh's inspiring story has had the makers keen to bring his life on the silver screen.
Soorma will feature Diljit Dosanjh essaying the role of Sandeep Singh alongside Taapsee Pannu and Angad Bedi in the pivotal roles.
Produced by Sony Pictures Networks Productions, Chitrangda Singh, and Deepak Singh, Soorma is written & directed by Shaad Ali and is slated to release on 13th July, 2018.