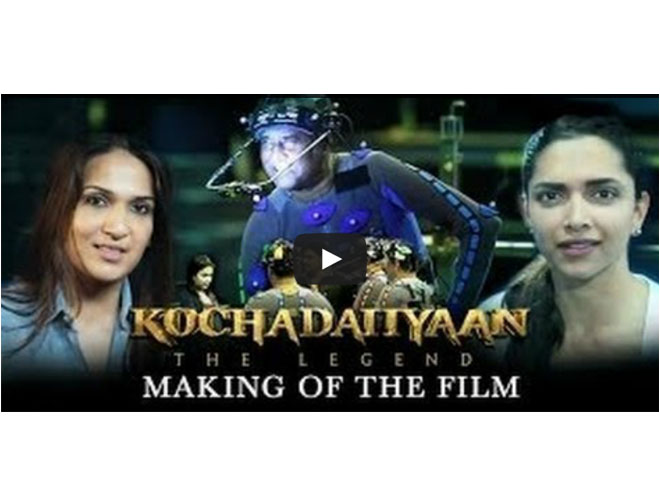 Mumbai: Superstar Rajinikanth's forthcoming blockbuster that is set to rival Hollywood's Avatar, Kochadaiiyaan – The Legend, has been making waves and world firsts ever since it started filming one and half years ago.
Kochadaiiyaan has achieved a major international feat as it combines the technical prowess of partners based in both the East and West including London – UK, Los Angeles – USA, South India and from China, making the film a truly international venture.
Kochdaiiyaan boasts a filming schedule at Pinewood Studios in the UK, the very same studios where Harry Potter was filmed, to having used the same technical team who have worked on projects such as Brad Pitt's World War Z and Pirates of the Caribbean.
Working on the project was the London based Centroid Studios, a state of the art facility for Full Body Motion Capture, which have worked on various famous Hollywood productions including World War Z, Pirates of the Caribbean and Ironman 2. They were supported by Counter Punch Studiosfrom Los Angeles, who have been behind successes such as Beverly Hills Chihuahua, for the Facial Capturing technology used together withFaceware Technologies. They have worked on The Mummy 3 and The Curious Case of Benjamin Button. A team of technical experts based in South India and China have worked on the animation and the completion of the project.
Speaking about Kochadaiiyaan's international heritage producers Mediaone Global Entertainment Limited and the AIM listed company Eros International say: "We have been keen to use Kochadaiiyaan as a strategic springboard to elevate the profile of Indian cinema globally. To achieve this, we knew as companies that we needed to appeal to a much broader audience.
The connecting point has been the use of world class technological innovations such as Motion Capturing Photorealistic technology which register with a Western and younger demographic. To achieve this we have worked with some of the best technicians from across the globe and top talent from India to create a project that we feel is a true depiction of 'world cinema'.
Kochadaiiyaan is set to blaze a trail globally in cutting-edge Motion Capturing with Photorealistic Technology, as it rivals and transcends the technological capabilities of Hollywood masterpieces Avatar, Tin Tin and Beowulf. South Indian megastar Rajinikant is cast as the archetypal superhero in the epic dramatisation of good versus evil. He performs a dual role with the reigning Queen of Indian Cinema Deepika being paired opposite the younger character.
They are joined by current and veteran stars of North and South Indian Cinema such as Jackie Shroff and R. Sarathkumar for a global, Pan-Indian cinematic treat.