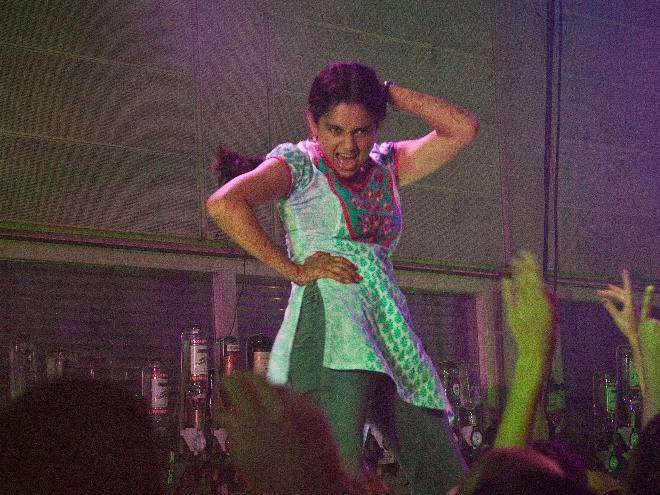 Mumbai: Viacom 18 Motion Pictures & Phantom Films' Queen acted as a game changer, as the film received an unprecedented response from the industry who have gone on to tout the film the entertainer of the year, crowning the lead Kangana Ranaut – Bollywood's newest "Queen Bee".
The film has created a pandemonium of sorts on the social media front ,with unanimous applause coming in from all quarters including industry stalwarts who have publically gone on to voice their support towards the film and of course lead Kangana Ranaut.
Superstar Amitabh Bachchan wrote in his letter to Kangana, "Your complete disbelief of a camera in front of you is an accomplishment all artists strive for. May your amazing talent grow with every film and may you prosper."
Said Aamir Khan, " What a film!!! Guys you have to watch QUEEN !!! Anyone who hasn't seen it please go now and see it.. Such an important film for every girl, every woman to watch… and in fact every male to watch too! Thank you to Vikas Bahl and his team which made the film. And Kangana… you rock!!!".
Said Karan Johar, "QUEEN is the most fun I have had at the movies in a very long time!!!! Vikas bahl is a STAR!! And Kangana is beyond Brilliance!!!"
"Queen is a mindblowing film. Hats off to Vikas" added Raju Hirani.
Said Shekhar Kapoor, "#Queen has a fresh
golden heart, at the centre of which lies a fluid consistent n convincing
performance by Kangana Ranaut. Watch this one."
Says opinion maker Shobhaa De , "Kangana : Superhero of Queen! Loved her. Loved the movie. Didn't miss a 'hero".
Reliable market sources state that the film is truly a turning point in Kangana Ranaut's career , in a performance that is nothing short of the finest one has seen on celluloid in a very long time, establishing Kangana Ranaut Bollywood's newest Queen Bee.
Said Kangana, "It's nice, that we as an industry and country, are encouraging meaningful cinema. A tremendous positive response from the industry and the audience has been both, motivational and uplifting."
Said director Vikas Bahl, "We are estatic with the response and overwhelmed with the kind of love and support the film has received".
Ajit Andhare, COO, Viacom18 Motion Pictures, commented, "The film has touched a chord. As a studio that believes in the power of storytelling and puts characters above everything else, we feel gratified that a project envisioned at the script stage, has come to life."
Viacom 18 Motion Pictures & Phantom Films' Queen directed by Vikas Bahl released 7th March 2014.