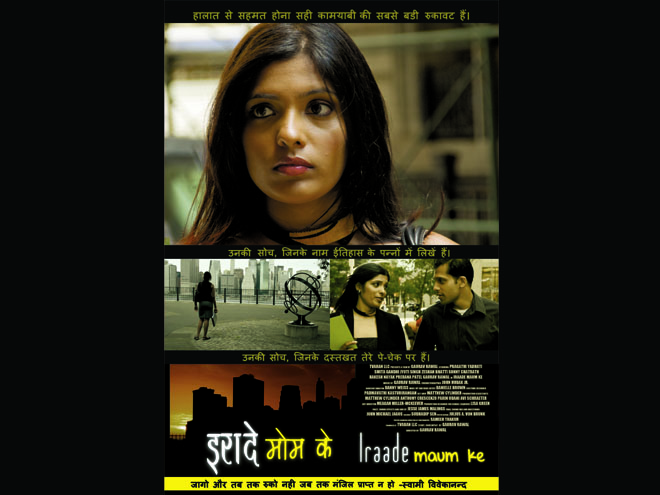 Mumbai: There will be a premiere of the independently made hindi feature film Iraade Maum Ke on June 4th, 2014 at the Digiplex Rialto Westfield, 250 East Broad Street Westfield, NJ 07090 at 7pm. It is a beautifully told character driven drama of the inner conflicts that people go through when achieving their goals. The stellar acting, and the thought-provoking, smooth presentation of the subject makes this film a must-watch!
Iraade Maum Ke is a 86 minute long hindi feature film shot in the tri-state area in the US. It is a story about ambition and the difficulty involved in achieving one's ambition, one's goals. Its a beautifully told film about the everyday struggles that people go through in making their decisions. It is a story about achieving big goals and what it takes to achieve those goals, or why, sometimes those goals are not achieved. And lastly, but perhaps more importantly, it is a story about the value we add to our relationships, to our loved ones.
It is produced, written, and directed by Gaurav Rawal. The production company that made the film is Tvaran LLC. Smita Gandhi is the Associate Producer of the film.
The film revolves around two characters. One is Shobhana, played by Pragathi Yadhati, who is ambitious and has big dreams. She wants to start her own restaurant. The second is Parth, who is a simple guy who lives to enjoy life. He wants to make the most of each moment and each day. In Parth's company, Shobhana finds happiness. They fall in love and decide to marry.
The film is about their life after marriage. What happens to Shobhana's dreams? Does she achieve them? Is she willing to make the needed sacrifices in order to achieve her goals? How strong is her resolve, her iraade?