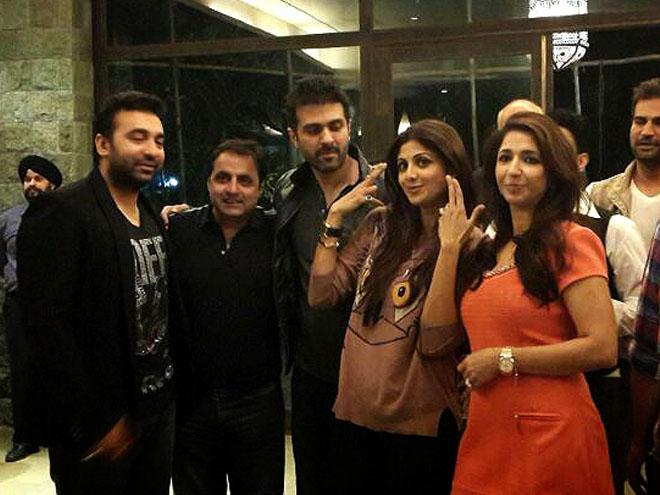 Mumbai: As Shilpa Shetty Kundra takes her first steps as producer with her maiden venture Dishkiyaoon along with Eros International, the actress-producer couldn't be more excited as she threw a soiree at her residence to celebrate on the occasion of the film's completion.
[BMo_scrollGallery id=7 sG_thumbPosition=left sG_images=1 duration=slow gallery_width=600 gallery_height=400 thumbs_width=100 thumbs_height=100 sG_caption=1 sG_start=1 sG_loop=1 sG_loopThumbs=1 sG_clickable=1 sG_opacity=40 sG_area=200 sG_scrollSpeed=2 sG_autoScroll=1 sG_aS_stopOnOver=1 sG_diashowDelay=0 sG_followImages=1 sG_responsive=1 ]
Producers Raj and Shilpa Shetty Kundra , producers Sunil and Krishika Lulla , director Sanamjit Singh Talwar and leads Harman Baweja and Ayesha Khanna who makes her big Bollywood debut with the film were present.
The team shot for the action – entertainer's highlight song "Tu Mere Type Ka Nahi Hai Re" post which they head to Juhu to join in the celebrations.
Says Shilpa Shetty Kundra, "We are finally done shooting for the film and there's a lot of hard work left in the post-production.However I wanted everyone to just let their hair down and celebrate all the effort that has gone into making this film.We dearly missed Sunny Deol on the occasion".
Adds producer Krishika Lulla, "Shilpa has always been the perfect host…We at Eros are extremely excited to be associated with her on Dishkiyaoon".
Eros International & ESM's Dishkiyaoon directed by Sanamjit Talwar starring Harman Baweja,Sunny Deol and Ayesha Khanna is scheduled to release March 28 2014.