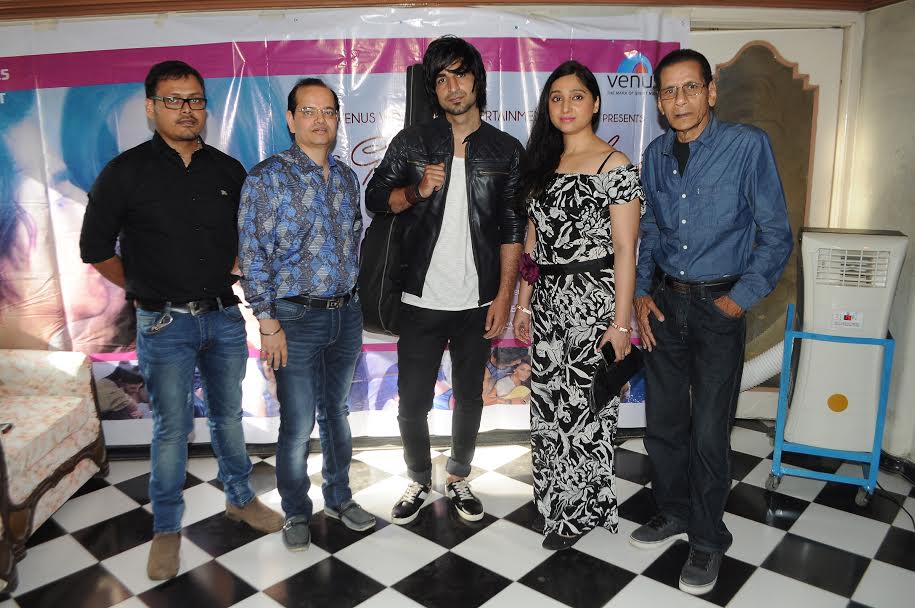 Mumbai: "Music is my passion, I live to entertain people" says the Singer & performer Sayed Rahi Umair from Kashmir who performed in MTV Colours Of Youth 2013 and was selected from Pune as best singer and performer will storm over the horizon as he will take over the music scenes with the year's defining moment with the release of his single "Gunehgaar Ishq" released under the banner of prestigious music label Venus Worldwide Entertainment.
The stage witnessed an unforgettable evening, Sayed Rahi Umair  performed live and exclusive as he captivated the audience with his performance at the launch of the single "Gunehgaar Ishq"  released under the banner of prominent music label Venus Worldwide Entertainment.  
The single launch witnessed the presence of  Sayan Roy (Director), Champak Jain, Sharmina Kazi (Actress), Sayed Rahi Umair (Singer and Actor), Pooja Ballutia (Story Writer) Sayed Gulrez (Lyricist).
Champak Jain, Director of Venus Worldwide Entertainment mentions "We are more than elated to launch 'Gunehgaar Ishq' by Sayed Rahi Umair. Both Sayed Rahi Umair & Sharmin Kazi are extremely talented.Venus Worldwide Entertainment takes pride to launch new talent in the market to keep up with the music scenes prevailing in the country. Venus Worldwide Entertainment aims to provide the best to the audience by giving them musical pleasures"
Talking about his upcoming release, Sayed Rahi Umair mentions, "I want to entertain audiences throughout my life with my music. I'm overwhelmed that my music single is launched by an esteemed music label. I always want to be different from the clutter. Whatever I do, should be different. My mindset is not to make a hit single but to whatever I'll do, I have to be different from everyone else."
Pioneering in giving the Indian Music Fraternity some of the best singers Venus Worldwide Entertainment not only introduces Sayed Rahi Umair but also renowned actress Sharmin Kazi. Hailing from Ratnagiri Maharashtra, Sharmin has triumphed upon the hearts of millions with her acting skills in various television shows.
Excited about her 1st video single, Sharmin Kazi proclaims"Gunehgaar Ishq is my first video single. I am overwhelmed that my debut video single is released under the banner Venus Worldwide Entertainment. Venus has a legacy of producing many albums and singles which are loved by the audience. The song is high on its musical richness and its uncanny ability to reach deep within our hearts"
Song- Haan Gunehgaar Hun Ishq Karta Hun Main; Producer – Champak Jain;  Singer- Sayed Rahi Umair; Lyrics – Syed Gulrez;Music – Sayed Rahi Umair; Video Artist – Introducing Sayed Rahi Umair & Sharmin Kazi; Video Director & Dop – Sayan Roy; Story– Pooja Balutiya & Sayan Roy.