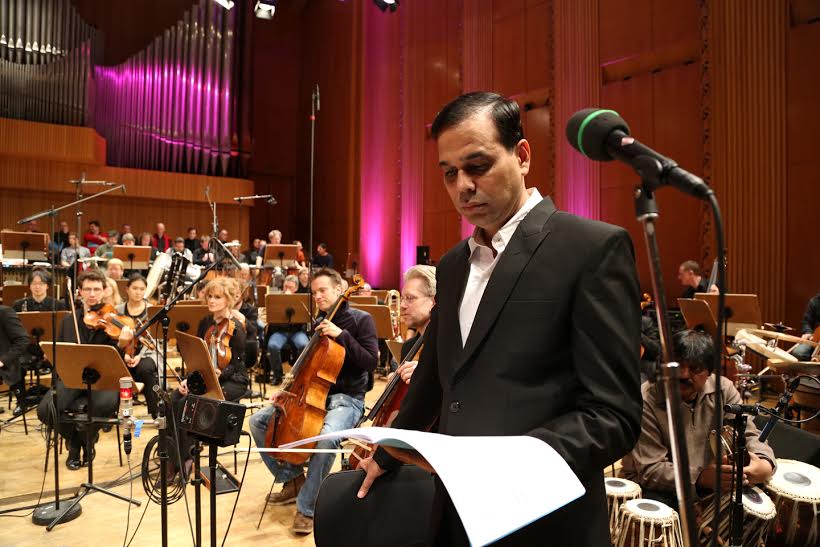 Mumbai: Singer Sandesh Shandilya Performed his First Symphony Composition "SEARCH FOR BUDDHA". The World Premier was held on February 6th 2015 at the Funkhaus Wallrafplatz, WDR Cologne, Germany, with the WDR Funkhausorchester and the WDR Rundfunkchor, Conducted by Wayne Marshall. He also performed on 7th February 2015 at Bielefeld, Oetkerhalle. The composition "Search For Buddha" was comissioned by the WDR Cologne.
Sandesh reveals, "It's a dream for a composer. My symphony, called the Search For Buddha, is based on world peace. I have worked out Hundred hours of music so far for the symphony, I had to connected with the western music.
This began while I was learning the Vipassana course there, three years ago. After a bout of self-discovery, I decided to explore Buddha and his inner journey. Fear, anger and greed need to be controlled. Peace within helps you spread it through your music."
"I met Markus Stockhaousen — a famous jazz-trumpet player — with my compositions, who then referred me to the organisers of symphony in Cologne. Mine features artistes from all over the world, including from the Middle East and South Africa.
It was an unforgettable exposure, and I wish to perform this symphony in India soon." With this, Sandesh will add his name to a prestigious list of Indian symphony composers like maestros Pandit Ravi Shankar, Pyarelal and Ilayaraja.
Sandesh also says, "It's all destiny. People who have worked with me know my sensibility", all good things come to people who wait, and keep at it.
His last composition for film music was for Ketan Mehta's Rang Rasiya, a biopic about painter Raja Ravi Varma. "The film released late and didn't do well, but its music was popular with those who heard it. Especially with my co-artistes in the symphony, who then welcomed me with open arms. Don't set many rules, we don't know what awaits us," he maintains.
Sandesh swears, and adds that he is lucky to have the backing of a few good friends in the Bollywood music arena.
Currently, Sandesh is busy composing for Sudhir Mishra's Aur Devdas, Time Out, John Abraham's Satra Ko Shaadi and for Amit Roy's IPad.