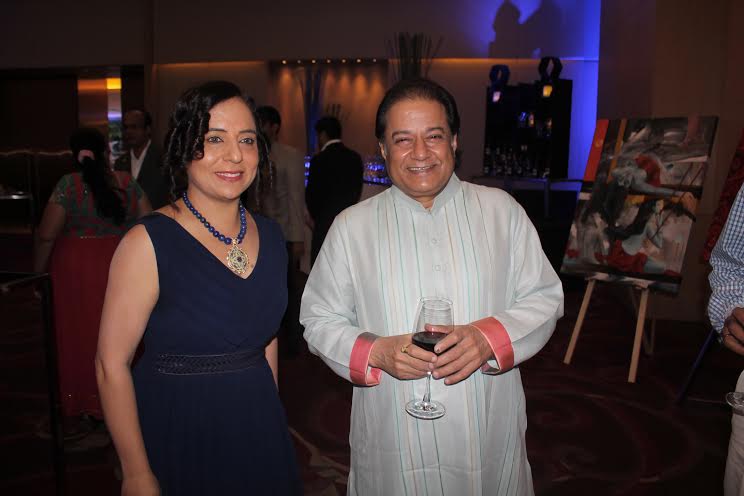 Mumbai: Sangeeta Babani, as she is fondly referred to was born and bought up in Spain and settled in Mumbai, India after her marriage. She paints, with fervor and passion. Her paintings comprises of various subjects, though love and woman are her favorites. Sangeeta veers from figurative semi-abstract depiction to abstraction as the mood takes her.
There are no straight answers and that is the beauty of life, is her firm belief; this philosophy is celebrated in her canvases with an exuberance of colour and emotion. A lover of colors and empty canvases which she fills with vibrant hues. The human figure special the body of a woman evokes strong feelings and is reflected intensely in her Art. "Expressing a language which is close to an Artist's sensitivity is a very personal sentiment. It begins with his integration in living a worldly life and extracting himself from it", Sangeeta Babani said.
Singer Anup Jalota may be associated with an altogether different image but he does like to unwind once in a while. He was recently spotted at artist Sangeeta Babani's art show in the suburbs. Anup Jalota said, "It's a pleasure to be present here and take a glimpse of painting. Each painting is subconsciously a motivated image provoking a beginning of a feeling, an emotion, and a thought at that time. She is a wonderful artist and had shown her emotion and feelings through a magnetic color which attract us toward them. Her Art inspires me to write some beautiful ghazals because we artists are very sensitive people and when we see something beautiful we get inspired.
Sangeeta Babani was the first Artist chosen to paint the Tata Nano and with 2 recent exhibitions in London and Dubai, this Art show at Westin Hotel is a culmination of Artworks done in this past Year.