Mumbai: Director Rupesh Paul, who locked different headlines in relation to his to be released movie "Kamasutra 3D" starting from the trailer released to the FIR show between Rupesh and Sherlyn Chopra, which at last was dissolved.
As per the sources, Rupesh Paul's movie Kamasutra 3D has not yet been released and along with this it has always been came under discussion that the movie will be released soon but till date the shooting of the movie has not yet been completed by actress Sherlyn Chopra.
While, on IMDB it has been mentioned that the movie has been released and even the rating of the movie can be seen over the official IMDB page. How can the rating of the movie be declared without the release.
In October, 2014 – Rupesh Paul told a well known news paper that the movie is almost ready to be released.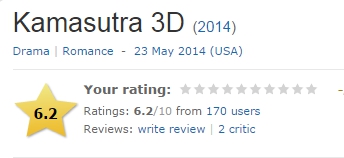 Rupesh Paul's Movie Kamasutra 3D cast includes: Sherlyn Chopra, Mohan Kapoor, Sushmita Mukherjee, Makrand Deshpande, Milind Gunaji, Maleena Khan, Hinixa Patel, Kristina Saikia, Salim Kumar,
Sophie, Amit Behl, Julia Bruchhwitz, Abha Paul, Sunil Bob, Tumul Balyan.
On the other hand Director Rupesh Paul has a long list of movies whose trailer has reached the official Youtube channel of Rupesh Paul Productions but no one knows when it will be released that includes:
1) Movie: The Vanishing Act
Directed by Rupesh Paul and based on the disappearance of Malaysia Airlines Flight 370. The trailer was published on Youtube on 17th May, 2014 but the present status of the movie is not available.
2) A Movie on Prime Minister Narendra Modi named NAMO 4D by Rupesh Paul:
Director Rupesh Paul gained great publicity with the announcement of making a 4D movie on Narendra Modi and in relation to this director also released a teaser of the movie on Youtube and many social networking website but if we talk about the present status of the movie than no one knows anything about it. Along with this the official teaser of the movie is now not available across the web.
Recently, Rupesh Paul locked the headlines in relation to his new plans to direct a real life based movie on Delhi gang rape case which mum the whole country on 16th December, 2012. But no one knows when it will be released or when it will be started.
Well, in relation to this team BollywoodDhamaka.in tried to get in touch with Rupesh Paul but we got no response from the director.
When we tried to reach few close associates of director Rupesh Paul then we came to know many other things which may be the reason for the delay in the releasing of the movie. We are trying to get more updates regarding the movies and hope Rupesh Paul's long movie list will touch the silver screen for the audience.
For more updates keep surfing BollywoodDhamaka.in