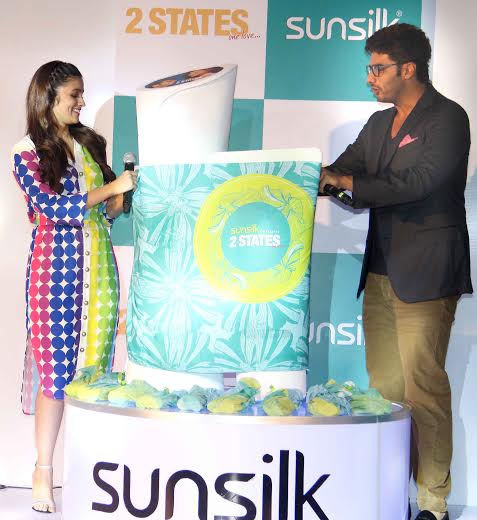 Mumbai: Sunsilk, India's premium hair care brand announced a one-of-its kind collaboration as the partner of Nadiadwala & Dharma Production's produced upcoming Bollywood movie'2 States', an Indian Romantic Drama film based on the 2009 novel of the same name written by Chetan Bhagat.
The film is a story about a journey of one young couple from their college love phase to marriage, starring Arjun Kapoor as 'Krish Malhotra', a typical fun loving Punjabi boy and Alia Bhatt as 'Ananya Subramaniam', a stunningly smart yet a cultured girl from a Tamil- Brahmin family.It is a humorous take on inter community marriages in India.
The movie is in collaboration with the leading hair-care expert, Sunsilk; a brand that has always stood for a 'now or never' attitude. The brandhas associated with the character 'Ananya' within the film with perfect fit. Full of optimism and gusto, Ananya believes in facing challenges with a smile. Ready to bag her dream job as a Sunsilk brand manager in the film, she fears nothing.She mirrors a typical Sunsilk girl's personality- a dynamic and an optimistic girl who wants to chart her own course.
The star studded event was hosted at Taj Land's End, Mumbai and attended by lead actors Arjun Kapoor along with Alia BhattandSrinandan Sundaram General Manager- Hair care at Hindustan Unilever Ltd.
The occasion witnessed the launch of a '2 States'–centric Sunsilk Natural RechargeTV commercial introducing the exclusive campaign.In addition, the lead pair of the movie – Arjun Kapoor and Alia Bhattalsounveiled the contest and exclusive merchandize in front of the media.
For 20-something single girls, hair is often an emotional rollercoaster. Sunsilk understands this and provides a complete hair care solution that gives a 20 something girl the confidence to express herself. On this occasion the brand launched its new variant Sunsilk Natural Recharge association within the film along with its exclusive movie merchandize packs for an online contest 'Sunsilk Dream Job'.
Speaking at the event, Srinandan Sundaram, General Manager- Hair care at Hindustan Unilever Ltd, said, "We are very excited to associate with 2 States, the next big blockbuster of the year. This movie is a perfect fit for us since it truly embodies what our brand stands for. It was unique for us as our partnership stands strong right from within the film's storyline via the main female lead- Ananya. Sunsilk celebrates a 20 something girl's confidence to express herself. Therefore tofurther engage with our consumers, we are also launching an exciting 'Sunsilk Dream Job' digital campaign that would run parallel to the movie.
The idea is to get four regular aspiring girlsa chance to live their dream job. Actress, Stylist or VJ – whatever their dream jobs might be, Sunsilk and Ananya will work together to make it happen. We are confident that this partnership will bring more excitement for our consumers."
Commenting on the association, Apoorva Mehta,CEO- Dharma Productions said, "Sunsilk& Dharma Productions are two huge brands that receive immense respect for their premium quality products! For a young and fresh film like 2 States, it was important for us to only partner with a brand that would perfectly fit with the young attitude and expression of the lead characters, played by ArjunKapoor and Alia Bhatt. We couldn't have found a better fit than Sunsilk that would reflect best with the confident and attractive personality of Ananya, the lead female character played by Alia. It also helps that hair plays a big role for us in showcasing her personality transformation from her college days to a professional! So this association is no doubt an apt coming together of two quality brands in a unique way!"
Highlighting this unique collaboration, Amin Lakhani, leader, South Asia, Team Unilever, Mindshare, said, "This movie partnership brings us immense pride both for its uniqueness and detailing.It is our constant endeavour to offer our client unique media opportunities to connect their brands to the passion point of its target consumer. Movies are no doubt the biggest passion in our country and we believe in its power to strengthen & differentiate brand conversations. Our mission is therefore to make movies a priority media platform and intrinsic to the brand's content strategy. "