Choreographer Vishnu Deva shot a very sizzling and zippy dance number 'MAR GAYE' featuring Sunny Leone and International Punjabi Hip Hop singers Raftaar and Manj (the song has also been sung by Nindy Kaur) along with international dancers for 'BEIIMAAN LOVE' on 18th, 19th & 20th July at the Nirmal Lifestyle Mall in Mulund. A lot of unique and modern sets and props were used for the filming of the song.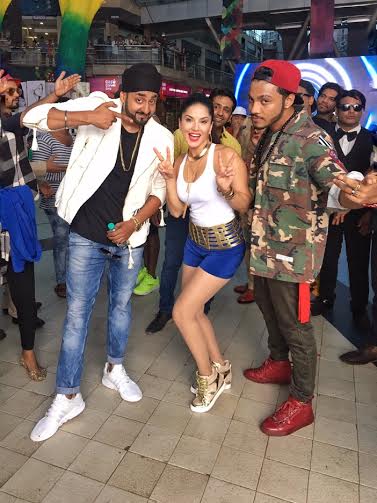 The 'MAR GAYE' song has been created by the Super Hit trio Raftaar, Manj and Nindy Kaur and has been mixed and mastered by universally acclaimed MUZIK ONE STUDIOS IN CANADA.
'BEIIMAAN LOVE' written, produced & directed by Rajeev Chaudhari and Co-produced by Roshni Chaudhari & Vijay Valbhani, is produced under the banner of Avanti Films Pvt. Ltd., and stars Sunny Leone, Rajniesh Duggal, Daniel Weber, Rajiv Verma and is introducing Yuvraj Singh.
Besides the above song by Raftaar, Manj and Nindy Kaur, the Music and Songs of 'BEIIMAANLOVE' are by Kanika Kapoor,Raghav Sachar, Ankit Tiwari, Asees, Asaad, Amjad-Nadeem and Sanjeev-Darshan. Zee Music Company has the music rights.
The film is slated for release in September 2016.