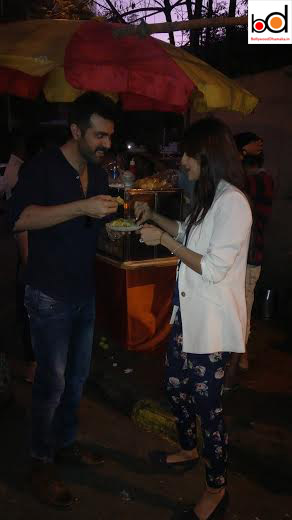 Mumbai: Film promotions are a hectic affair and actor Harman Baweja and producer Shilpa Shetty Kundra, who are currently busy with the promotions of action-thriller 'Dishkiyaoon',recently decided to indulge in a street-food craving while on their way to an event.
As per the close associates, "Shilpa and Harman have been going for various promotional activities and , while on their way to an event over the weekend, lead Harman spotted a 'pani-puri' vendor and suggested that they stop for a quick snack. Shilpa, who loves street food, readily agreed and the duo got down from their cars to enjoy the street delicacy. Harman and Shilpa, who are huge fitness aficionados, rather enjoyed this guilty pleasure after all the hardwork that they've put behind the film."
Eros International and ESM's Dishkiyaoon directed by Sanamjit Singh Talwar starring Harman Baweja, Sunny Deol and Ayesha Khanna is scheduled to release on March 28 2014.