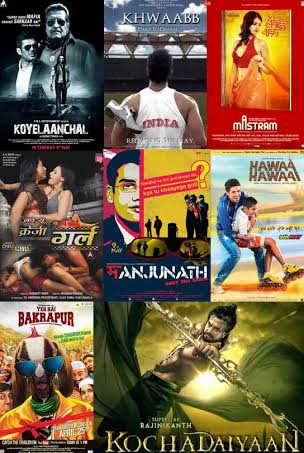 Sex, sleaze, sense and drama; all fail this week!
Yes, This week saw the release of SEVEN Hindi films – Asshu Trikha's Koyelaanchal, Amole Gupte's Hawaa Hawaai, Janaki Vishwanathan's Yeh Hai Bakrapur, Bhabani Prasad's Love U Crazy Girl, Akhilesh Jaiswal's Mastram, Zaid Ali Khan's Khwaabb and Sandeep A. Varma's Manjunath.
With this new influx of releases, it turned out to be yet another week in the history of Bollywood, where all of them suffered to some extent or the other, inspite of containing mixed doses of sex, sleaze, sense and drama.
"From a PR point of view, such clashes always make poor release strategy," remarks Bollywood's only PR guru Dale Bhagwagar.
"So much of planning and effort goes into the making of every movie from start to finish. And then, suddenly, in one stroke, so much goes haywire. Its almost like professional hara-kiri," analyzes the celebrity publicist.
True! After all, how many movies can the audience watch in a week? This week, like others before, they were divided and revenues suffered.
"We are all aware that nothing succeeds like success. During release, the only thing our makers need to concentrate on is how the film will get the desired footfalls, top initials and do rocking initial business at the box-office. How it will recover and make monies. Because that's 'the thing' which will matter in the long run for any maker or market," concludes the public relations specialist.
Luckily for these seven films, Soundarya Rajnikanth's Kochadaiiyaan got postponed at the last minute. Otherwise, they would have been further burdened with a Rajnikanth starrer to compete with. Although the iconic megastar's film is in Tamil, it will also be released in Hindi, just like his earlier superhit Robot.