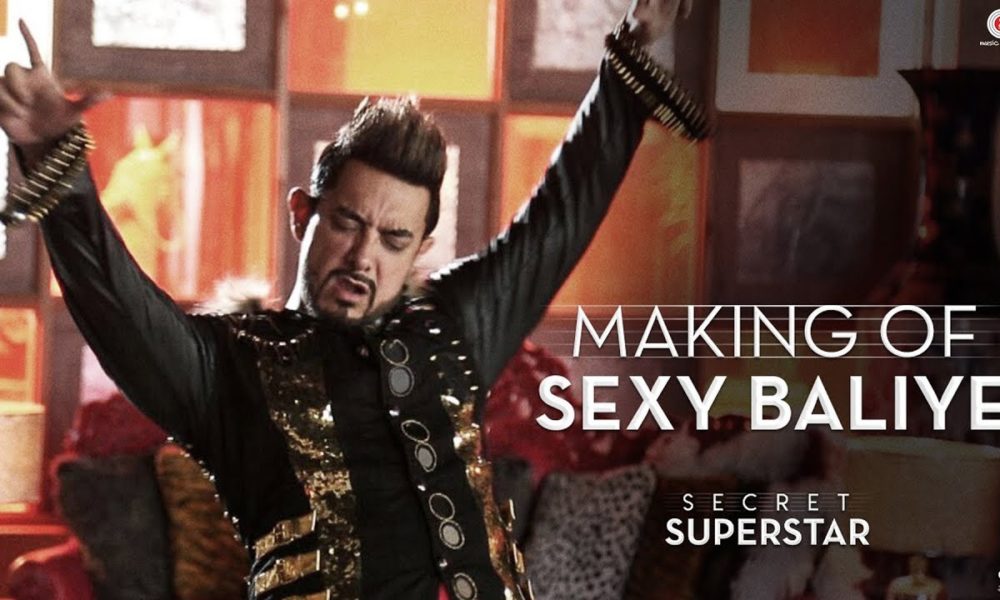 The latest song from Aamir Khan Productions' 'Secret Superstar' titled 'Sexy Baliye' has been creating waves all over with the quirky and funny avatar of Shakti Kumaarr. The makers have now released the making of the song providing insights into the up beat song.
Director Advait Chandan was adamant to have the funky voice of Mika Singh for Aamir Khan's character. Mika Singh was more than happy lending his voice to the Superstar.
The BTS showcases the entire team enjoying the process of the creating the song.
Throwing more light on the song Advait Chandan said," This is not a song that Insia writes or composes. This is Shakti Kumaarr's voice. The idea of this video is Shakti Kumaarr's first YouTube video that he dedicates to Secret Superstar."
Producer Kiran Rao too shares her thoughts saying, "Aamir is the item in the song. He is what we call cheap throughout the song and intentionally cheap."
The song is choreographed by the Dangal girl Sanya Malhotra. Talking about which she said, " This is my first project as a choreographer and I loved making Aamir Khan dance to my tunes."
Aamir Khan shared the video on Twitter saying, "Thank you Mika paaji ! And thank you Sanya! Shakti Kumaarr is incomplete without you."
The song was the last thing the team shot for the film and the wrapping of the song was widely celebrated by the entire cast and crew. Everyone danced their hearts out as the film wrapped its shoot. Zaira Wasim, Kiran Rao, Advait Chandan, Sanya Malhotra were seen letting it loose as the team celebrated the wrap.
'Secret Superstar' is a film essentially based on music with the lead protagonist Insiya played by Zaira Wasim being an aspiring singer. The young girl faces resistance from her father after which she opts to follow her dreams by posting videos on social media anonymously.
The trailer of the film has received a great response raising the anticipation for the film. The songs 'Main Kaun Hoon', 'Meri Pyaari Ammi', 'Sapne Re' and 'I Miss You' provide further insights into the film.
The film has has generating huge buzz owing to Aamir Khan- Zaira Wasim returning to celluloid after 'Dangal' as well as the content of the film.
'Secret Superstar' is Aamir Khan Productions' upcoming film after delivering blockbuster films like Lagaan, Taare Zameen Par, Dangal among others.
Produced by Aamir Khan, Kiran Rao under the banner name of Aamir Khan Productions, Zee Studios, and Akash Chawla, Secret Superstar is written and directed by Advait Chandan. The film is slated to release on October 19.