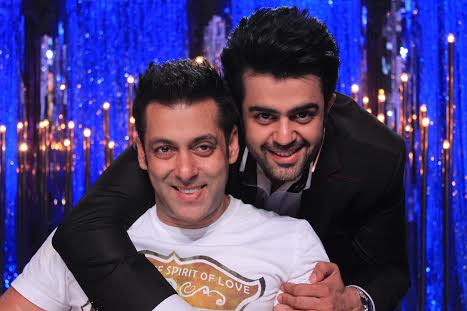 Mumbai: Trust Salman Khan to surprise his fans every time he makes a public appearance but this time he surprised his actor friend Manish Paul during the Arab Indo Bollywood Awards ceremony held in Dubai recently.
Manish Paul, who co-hosted the award ceremony with Karan Johar was quite surprised by Salman's kind gesture. It's learnt that after giving a power-packed performance, Salman had an interesting conversation with Manish and Karan on stage when suddenly he decided to spring a surprise on Manish.
Salman, as usual, was at his humorous and witty best as he took over the mike and announced the release date of Tere Bin Laden – Dead or Alive, much to Manish's surprise.
A source informs, "Not just that Salman even praised Manish in front of a packed audience thereby requesting them to watch Tere Bin Laden – Dead or Alive releasing on 30th October. Manish was quite surprised by Salman's act and thanked him for his support."
Directed by Abhishek Sharma and produced by Walkwater Media Limited, the sequel Tere Bin Laden – Dead or Alive features Manish Paul, Pradhuman Singh, Sikandar Kher among others including Piyush Mishra, Iman Crosson, Sugandha Garg, Chirag Vora and Rahul Singh.