Mumbai: Few days back team BollywoodDhamaka informed you regarding Salman Khan's lovely sister appearance at Jaipur airport with Aayush (Husband) and Salma Khan (Mother). Along with this our close sources informed about Arpita holiday plans.
While, this time Salman Khan's sister has posted few amazing holiday pictures with Salman Khan on her social networking website.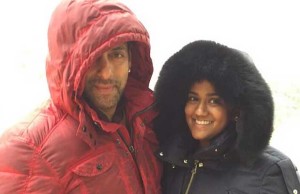 As per the latest updates, Actor Salman Khan is working for his upcoming movie "Bajrangi Bhaijaan" at a village named Mandwa near Jaipur and this is among the awaited movie of the actor and just because of the dates promise with the Bajrangi Bhaijaan filmmaker actor left the reality show Bigg Boss.
In the shared picture Arpita seems very happy mood and the actor Salman Khan, Arpita can be seen wearing a jacket on the set of Bajrangi Bhaijaan, as the weather is cold. Another picture shared by Arpita is where she is with her hubby and in the last picture actor's mom has been seen enjoying the sun bath.