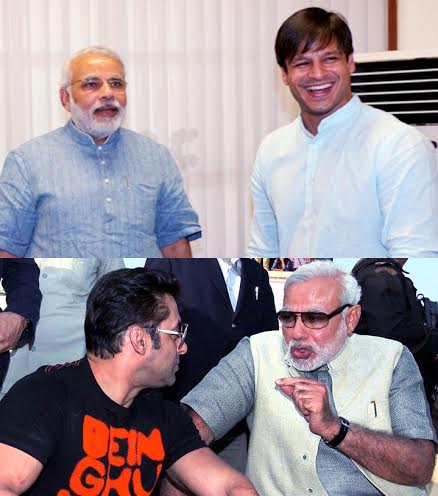 Mumbai: It is not an easily achievable feat to get foes Salman Khan and Vivek Oberoi on one platform. But when it came to the swearing-in ceremony of India's 15th Prime Minister Narendra Modi at Rashtrapati Bhavan in New Delhi, the ex-lovers of Aishwarya Rai, of course, did not mind.
It was a day when Dabanggiri came together with Grand Masti, although on a serious note. Cautiously, Salman and Vivek kept safe distance at the grand event, avoiding any filmi controversy at NaMo's oath-taking ceremony which has emerged an international event, with political bigwigs of Asia attending it.
When we quizzed Bollywood's only public relations guru Dale Bhagwagar about this coming together of foes, he said, "Let's move on and look at the bigger PR picture here. The nation is binding together with Mr Modi while he is even binding other nations with India. It will not be fair to talk about Vivek and Salman in this context."
Coincidently, Dale is the same publicist, who engineered a perception turnaround for Brand Vivek Oberoi when the actor was down-and-out three years ago.
For the record, Shah Rukh Khan was not on the Prime Minister's invitee list. Rajinikanth, Lata Mangeshkar and Amitabh Bachchan were, but they skipped the event.
Bollywood names spotted at the ceremony included Hema Malini, Dharmendra, Vinod Khanna, Shatrughan Sinha, Salim Khan, Madhur Bhandarkar, Bappi Lahiri, Manoj Tiwari, Kirron Kher, Anupam Kher and Poonam Dhillon, some of whom were also BJP candidates in the elections.