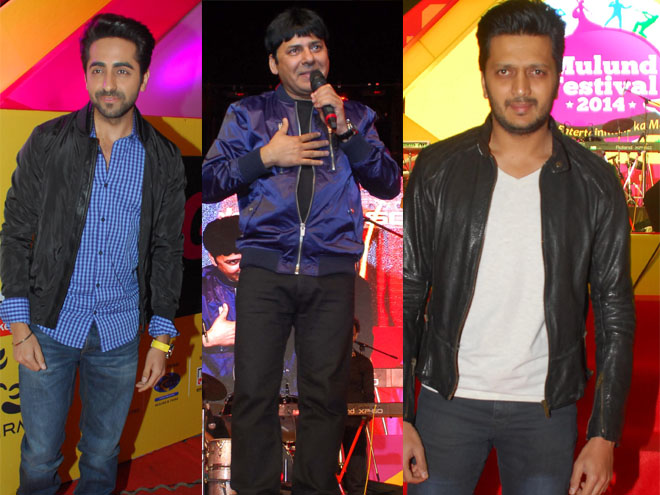 Mumbai: A five-day-long festival of Mulund the "Entertainment ka Mela" witness by the Leading lights from the Bollywood and Television industry have arrived in the Festival. Mulund Festival initiated by Charan Singh Sapra Ex – MLC & Chairman of Sewak (NGO) concluded yesterday with a Starring Goodbye to year 2014. The 5 day event started from 25st – 29th Dec 2013 was a Grand Success. It featured more than 10000 participants in 10 different events which included Karaoke Singing, Dancing, Box Cricket, Body Building, Badminton, Painting, Rangoli, Marathon, Carnival Junction, Harley Davidson Bike Rally and many more. Charan Singh Sapra said, "The Mulund Festival has proven to promote our great city and province by showcasing local and international talents in fashion, entertainment and cultural performing arts. I applaud all the sponsors, organizers, participants and attendees for promoting this annual cultural festival". The festivals provide attendees with the chance to get up close and personal with their favorite celebrity.
The Entertainment ka Mela flag off my Singer-Comedian Sugandha Mishra, and followed Harley Davidson Bike rally with the message of "Save Girl Child". Body Building competition was a mega hit where Body Builders from around the World flexed their muscles thereby amazing the Mulundites with their hulky structures Chief Guest Bollywood Actor Mukesh Rishi who himself is a Body Builder, considering the participations from all over the world, said "Mr. Sapra has organised this event on a very Grand Scale & it can be rather called "World Festival" instead of "Mulund Festival".
On the grand finale of the festival people was seen grooving on the tune of Shaan which made crowd go crazy. Charan Singh Sapra was seen bonding with Ritesh Deshmukh, Sapra said, "We are bringing all the sections of societies & people of different age groups on a common platform & also give them a chance to exhibit & excel their talents." Standup Comedian Sudesh Lehri was seen making people rolling on the floor with his jokes.
Ritesh Deshmukh who was all in Marathi mood said, "Mulund Fest is an initiative for bringing about togetherness by the cosmopolitan crowd of Mulund. The festival was a great fun. I enjoyed a lot the audience was amazing." Sapra was seen honoring Bollywood star Ayushman Khurana who enthrall the audience with his melodious voice and sung his popular song "Mera Mann Kehne Laga", Ayushman said, "Its fun to celebrate mulund festival with all my fans. It's a beautiful fest I have ever seen." Bigg Boss fame Actor Pratyusha Banarjee was seen enjoying the performance, she said, "It was great fun and I am grateful to be here." Others who were present at the Harshad Chopra, Sumeet Raghvan, Rupali Bhosale, Atul Parchure, Paresh Ganatra, Aditi Sajwan and Manav Gohil. The festival was celebrated by mulundies with lots of fun and pomp.