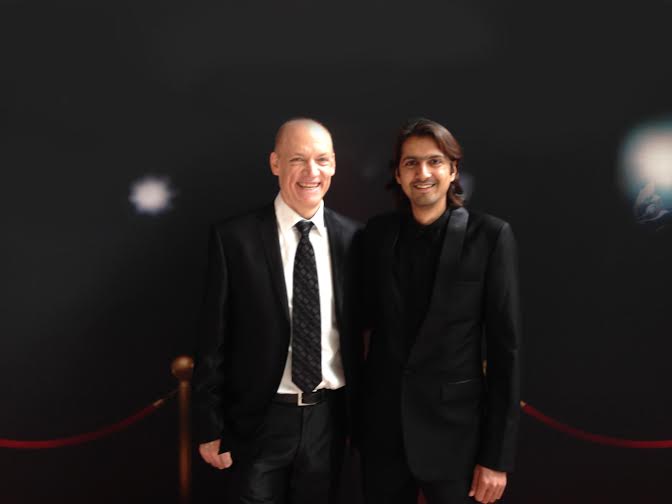 Mumbai: Award-winning Indian Music Composer and Producer RICKY KEJ has been nominated for the prestigious 57th GRAMMY® AWARDS for his Music album 'WINDS OF SAMSARA' (www.windsofsamsara.com). The Recording Academy announced this on Friday, December 5, 2014.
'WINDS OF SAMSARA', the debut collaborative album by Ricky Kej and renowned South African flutist Wouter Kellerman is nominated in the BEST NEW AGE ALBUM OF THE YEAR category for the 2015 AWARDS. With this, Ricky is the first Indian to be nominated in this category.
'WINDS OF SAMSARA' debuted at #1 on the US Billboard New Age Chart and continued to be in the Top 10 for the next 12 weeks. This masterful collaborative album by Kej and Kellerman also debuted at #1 on the ZMR World Radio Charts.
'WINDS OF SAMSARA' was recorded over two years by Ricky Kej with over 120 musicians from five continents. A truly global effort, it has listeners from across the world and has succeeded in catching the attention of preferential music listeners as well. This boundary-breaking New Age album speaks through themes of World peace, spinning together forward-moving harmony, progressive composition, and technical prowess with a verve and passion never before attempted in this genre. Through this album, the star-matched duo Ricky and Wouter spotlights the musical, cultural and political connections between India and South Africa from Mahatma Gandhi to Nelson Mandela.
On being nominated, Ricky Kej "It is especially a proud moment for me to be nominated for a Grammy® and to go down in history with the likes of Peter Gabriel, Enya and Enigma. It is exhilarating to represent my country in such a respectable forum! This album is a dream come true for me, as it has challenged us as artists to push borders and to have the one common thread truly be the universal language of music. A recognition such as this humbles me and motivates me to continue spreading the message of peace and harmony through my music".
In what is seen as a major leap forward for India on the global music stage, Ricky Kej will grace the red carpet at the Staples Center in Los Angeles on Sunday, February 8th, 2015 for the evening billed as Music's Biggest Night®. The broadcast will commence on CBS at 8 p.m. ET/PT.